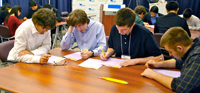 Students to Capitalize on Economics Acumen for Cash Prizes and School Pride
NEW YORK – May 17, 2011 – Student teams from six high schools to compete as finalists in the National Economics Challenge Championship Round, May 22, sponsored by the Council for Economic Education.
Teams competing to win the national title are:
Choate Rosemary Hall, Wallingford, CT
Iolani School, Honolulu, HI
The Harker School, San Jose, CA
Mounds View Senior High School, Arden Hills, MN
North Carolina School of Science and Mathematics, Durham, NC
Phillips Academy, Andover, MA
Final rounds utilize a quiz bowl format as teams answer questions on complex economic concepts and theories involving micro- and macroeconomics, international economics and current events. Cash prizes are awarded to teams and their teacher-coaches for their success in the national and semifinal competitions.
The National Economics Challenge Championship Round is Sunday, May 22 at the Council for Economic Education, 122 E. 42nd St., New York, NY.
"It is a privilege to be with these outstanding students who have devoted their energy to achieve a spot in the finals of the National Economics Challenge. While they are focused on winning this weekend, they have all already won. They have gained the knowledge to thrive in the complex world in which we live, and to build happy, productive lives on the horizon line of their choice – and that is not only critical to them, but critical to our nation's health and prosperity," said CEE's President and CEO, Nan J. Morrison.
About the National Economics Challenge:
The CEE created the National Economics Challenge in 2000 to promote student interest in economics, reinforce classroom instruction, advance academics and school spirit and reward scholarship. In 2011, more than 1,200 teams of high school students participated in 32 states nationwide. The National Economics Challenge is one of several key initiatives in the CEE's "Campaign for Economic Literacy" which seeks to focus public attention on the importance of economic literacy and the need for a high-quality, standards-based economics curriculum in every state.
About the Council for Economic Education:
The CEE aims to empower people to make informed and responsible choices throughout their lives as consumers, investors, citizens, and participants in the global economy. The CEE advocates for better and greater school-based economic and personal finance education at the K-12 level through well-prepared teachers and high quality programs that help young people achieve economic and financial literacy. Each year the CEE's programs reach more than 150,000 K-12 teachers and over 15 million students in the United States and in more than 36 other countries.