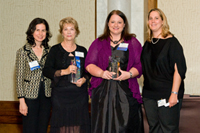 National educators receive awards at 50th Annual Financial Literacy and Economic Education Conference
NEW YORK, October 19 – The Council for Economic Education (CEE) awarded 9 educators from around the nation with top honors in the fields of economic and financial literacy education.
"We are thrilled to honor these educators for their contributions," said CEE President and CEO Nan J. Morrison. "Educators are the people who pass on the importance of financial literacy and economic education to our nation's future – our students."
The John Morton Excellence in the Teaching of Economics Awards for K-12 classroom educators are:
Elementary Level: Bonnie B. Berry, Ottobine Elementary School, Dayton, Virginia
Middle School Level: Amy Smallwood, Grace Hill Elementary, Rogers, Arkansas
High School Level: Connie H. Lambert, Alcorn Central High School, Glen, Mississippi
The university-level economic educator awards recipients are:
The John C. Schramm Leadership Award: Dr. Don. R. Leet, Professor Emeritus, Department of Economics, California State University, Fresno
The Bessie B. Moore Service Award: Dr. R. J. Charkins, Executive Director, California Council on Economic Education, California State University, San Bernardino
The Patricia K. Elder International Award: Dr. James J. Grunloh, Professor of Economics, Department of Economics, University of Wisconsin Oshkosh
The Rising Star Award: Mr. Michael English, President & CEO, Missouri Council on Economic Education, University of Missouri-Kansas City
The Abbejean Kehler Technology Award: Dr. Kim Sosin, Center Associate, Center for Economic Education, University of Nebraska at Omaha
The Albert Beekhuis Award: Dr. Richard (Rick) Fenner, Director, Center for Economic Education, Utica College
Educators were honored at the awards dinner during the CEE's 50th Annual Financial Literacy and Economic Education Conference, an event bringing together top industry experts, educators and partners who are passionate about financial literacy in the K-12 classroom.
"The need to educate our students with a sound economic and financial understanding has never been greater. These educators have been honored because of their passion, expertise and unwavering belief in the importance of preparing our students for the future," said Morrison.
About the Council for Economic Education
The CEE empowers people to make informed and responsible choices throughout their lives as consumers, investors, citizens, and participants in the global economy. The CEE advocates for better and greater school-based economic and personal finance education at the K-12 level through well-prepared teachers and high quality programs that help young people achieve economic and financial literacy. Each year the CEE's programs reach more than 55,000 K-12 teachers and over 15 million students.