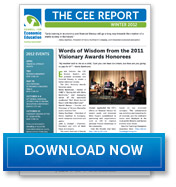 Three times a year the Council for Economic Education releases the CEE Report, highlighting our new and noteworthy events, programs and partnerships, including pilot programs and joint ventures with key supporters.
"Early training in economics and financial literacy will go a long way towards the creation of a stable society in the future."
– Henry Kaufman, President of Henry Kaufman & Company, and renowned economist and author
In This Issue
2012 Events
Words of Wisdom from the 2011 Visionary Awards Honorees
Note from Nan
Making a Difference in Maryland
2011 Survey of the States
Economic and Financial Literacy is a Necessity
CEE Welcomes Three New Members to the Board
CEE Targets Lowest Performing Schools with Virtual Economics
2011 CEE Accomplishments
CEE Affiliated Partners' Milestones in 2012
'Economists on the Economy'
Discover Financial Services Supports CEE Curriculum in the Classroom
Board of Directors
Thanks to Our 2011 Supporters
---
Words of Wisdom from the 2011 Visionary Awards Honorees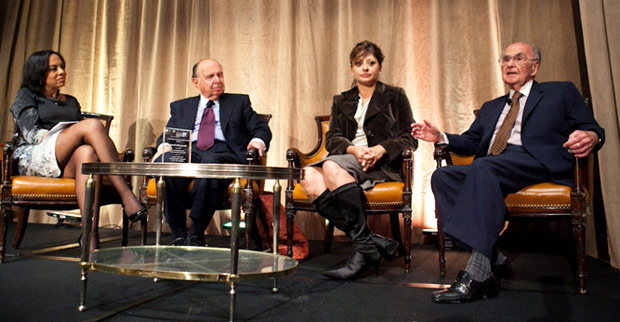 "My mother said to me as a child, "Sure you can have ice cream, but how are you going to pay for it?""

-Maria Bartiromo
Each October the CEE honors leaders who promote economic and financial literacy to create a better-informed society.
The 2011 Visionary Awards honorees were:
Maria Bartiromo – Anchor of CNBC's "Closing Bell with Maria Bartiromo," and managing editor of the nationally syndicated "Wall Street Journal Report with Maria Bartiromo"
Harold Burson – Founder and Chairman of Burson-Marsteller public relations firm
Henry Kaufman – President of Henry Kaufman & Company, world renowned economist and author
John G. Stumpf – Chairman, President and CEO of Wells Fargo & Company
The event featured a fireside chat with Sharon Epperson, CNBC Senior Commodities Correspondent and Personal Finance Correspondent, interviewing three of the honorees who discussed the importance of personal finance and economic education for today's youth, and their own stories of how they learned about money, finance and responsibility. Michelle Lee, Northeast Regional President, Wells Fargo & Company, accepting on behalf of Stumpf, applauded the CEE's efforts on financial literacy for today's youth, and discussed Wells Fargo's commitment to partnering with organizations such as CEE to improve personal finance knowledge in the community.
CEE selected KimMarie Lennon and Colleen Hoffman as the McGraw-Hill Teaching Champions for excellence in the field of K-12 economics and personal finance education. Lennon and Hoffman are elementary school teachers in Half Hollow Hills Central School District, Dix Hills, New York. For the past two years they engaged high school seniors from AP economics classes to write children's literature books with their elementary students based on key economic concepts. This collaboration was enriching and rewarding for all involved, and the children's books were displayed at the local public libraries and Barnes & Noble book stores.
CEE also was presented with a challenge grant by one of our Board Members who agreed to match, dollar-for-dollar, all monies that were raised in the room that night, up to $25,000. We are proud to announce that we met that match helping us to exceed last year's event total by over $20,000.
The 2012 Visionary Awards Dinner will be held on Thursday, October 25 at the St. Regis Hotel, New York City.