Industry Leaders Discuss the Gender Gap in Financial Education
This week, the Council for Economic Education welcomed Ann F. Kaplan, Dr. Annamaria Lusardi and Dr. Mahnaz Mahdavi to our national headquarters to address an important, yet rarely discussed topic: that even highly educated women have low levels of financial literacy.
Speaking before an audience of industry leaders from the financial, philanthropic, legal and non-profit sectors, rising freshmen Heather Pepper and Naomi Gonzalez opened the program by sharing their personal experiences and the first-hand benefits of the financial curriculum they experienced in high school. Then, following opening remarks from CEE's CEO and President Nan J. Morrison,  the trio of distinguished panelists offered their insights into the issue at hand.
Ms. Kaplan, partner at Circle Wealth Management, dispelled the false yet persistent myth that women don't invest because they aren't good at math.  But she also spoke to the need for greater financial education for women, even for those who work in finance.  To paraphrase Ms. Kaplan, understanding complex derivatives doesn't equip you with the personal finance lessons you need to plan for retirement.
Dr. Lusardi, Professor of Financial Literacy at The George Washington School of Business, noted that a sharp difference exists between men's and women's financial knowledge not just here in the United States, but across the globe.  According to Dr. Lusardi, financial literacy is a skill one needs for everything from voting to making the decision to invest in education.  Equipping young women with that knowledge is a crucial way to "make a difference in someone's life."
Dr. Mahdavi, Professor of Economics at Smith College, presented a comprehensive study she conducted on the state of financial literacy of educated women based on detailed survey responses from almost 4,400 Smith alumni. One of the most startling findings was the dearth of financial knowledge among women in their 20's and 30's: out of the six basic finance questions they were asked, these age groups correctly answered only 35% and 44% respectively. And though literacy tends to increase with age, peaking in the 60's with a 57% correct response rate, even then it falls short of where it needs to be.
On a positive note, data suggests that a rigorous financial education at an early age could be a way to reverse the trend.  As Ms. Morrison concluded, "if we get to the problem early… [students] can build life along their values by having the tools and knowledge to make the best decisions for them and their communities.
The event was graciously funded by Gerstein Fisher, a financial management firm based in New York City.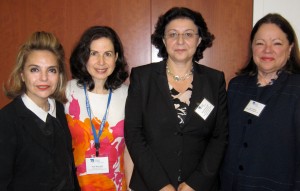 L-R: Mahnaz Mahdavi, Nan J. Morrison, Dr. Annamaria Lusardi, Ann Kaplan