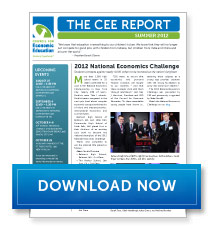 Three times a year the Council for Economic Education releases the CEE Report, highlighting our new and noteworthy events, programs and partnerships, including pilot programs and joint ventures with key supporters.
"We know that education is everything to our children's future. We know that they will no longer just compete for good jobs with children from Indiana, but children from India and China and all over the world."
–  President Barack Obama
In This Issue
Upcoming Events
2012 National Economics Challenge
Note from Nan
Illinois Leads the Way in Achieving Excellence for Teachers and Students
Chicago Public Schools Integrates CEE Curriculum in the Classroom
Learning, Earning and Investing for a New Generation
ING DIRECT and CEE Pilot K–5 After-school Program
Financial Literacy Day on Capitol Hill
We Met the $200,000 Challenge!
CEE Wins EIFLE Award for Financial Fitness for Life®
CEE Launches Redesigned Website for Educators
CEE to Release Personal Finance Standards
Entrepreneurship Economics Teacher Resource
CEE Works with Indianapolis Schools to Integrate Personal Finance Across the Curriculum
'Financial Illiteracy: Educated Women Too?'
CEE Represented at U.S. Senate Hearing on Financial Literacy
51st Annual Financial Literacy and Economic Education Conference
CEE's CEO Attends White House Summit on Financial Capability and Empowerment
Financial Literacy: Is your state part of the problem—or solution?
2012 Visionary Awards
---
2012 National Economics Challenge
Students compete against nearly 6,000 others to be honored as the nation's brightest
More than 1,500 high school teams in 33 states contended for a spot in the National Economics Championship in New York City. Nearly 30% of Semi-Finalists were Title I schools. Finalist teams competed in the oral quiz bowl about complex economic concepts and theories of micro and macroeconomics, international economics and current events.
Belmont High School of Belmont, MA, and Little Falls Community High School of Little Falls, MN placed first in their divisions of an exciting quiz bowl to become the national champions of the 2012 National Economics Challenge.
Teams who competed to win the national title placed as follows:
Adam Smith Division
Belmont High School, Belmont, MA – 1st Place
The Harker School, San Jose, CA – 2nd Place
Bellaire High School, Bellaire, TX – 3rd Place
Homewood-Flossmoor, Flossmoor, IL – 4th Place
David Ricardo Division
Little Falls Community High School, Little Falls, MN – 1st Place
Carmel High School, Carmel, IN – 2nd Place
Iolani School, Honolulu, HI – 3rd Place
Michael E. DeBakey High School, Houston, TX – 4th Place
"CEE wants to ensure that economics and personal finance concepts are taught to our students – and that these concepts stick with them through adulthood," said Nan J. Morrison, President and CEO of the Council for Economic Education. "As these remarkable young people have shown us, teaching these subjects at a young age provides students with the strong foundation to grow into tomorrow's leaders."
The 2012 National Economics Challenge was presented by CEE and generously supported by State Farm®.
Watch the National Economics Challenge on our blog.