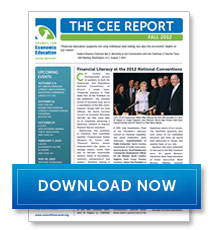 Three times a year the Council for Economic Education releases the CEE Report, highlighting our new and noteworthy events, programs and partnerships, including pilot programs and joint ventures with key supporters.
"Financial education supports not only individual well-being, but also the economic health of our nation."
–  Federal Reserve Chairman Ben S. Bernanke at the Conversation with the Chairman: A Teacher Town Hall Meeting, Washington, D.C., August 7, 2012
In This Issue
Upcoming Events
Financial Literacy at the 2012 National Conventions
Note from Nan
CEE Affiliates Start a New School Year with Strong Momentum in Advocacy
CEE Launches Video Contest: "What Should the Next President do to Improve the Economy?"
Teaching the Economics of Elections
A Look at Financial Literacy at the 2012 Democratic National Convention
2012 Visionary Awards
---
Financial Literacy at the 2012 National Conventions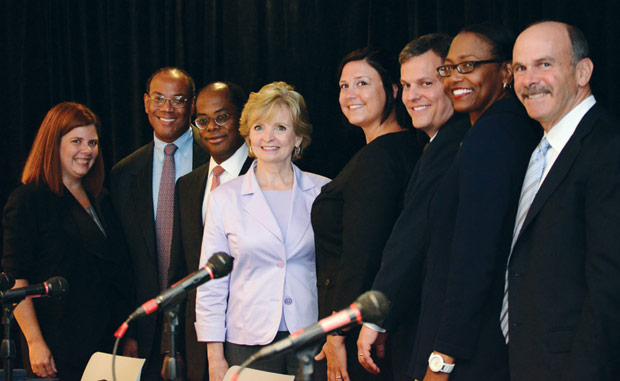 CEE's VP of Government Affairs Mary Blanusa (far left) with panelists (l-r) John W. Rogers, Jr., Roger Ferguson, June Atkinson, Nicole Lipp, Senator Josh Stein, Pamela Everhart and CEE Board Co-Chair Barry Haimes.
CEE invited two distinguished groups of panelists to both the Democratic and Republican National Conventions to discuss a single topic: "Financial Literacy: Is Your State Part of the Problem—or the Solution?". The untimely arrival of Hurricane Isaac led to a cancellation of the RNC event; however, hosted with our local affiliate, the North Carolina Council on Economic Education (NCCEE), the DNC event went on as scheduled, advancing a bipartisan initiative to improve financial literacy education.
Addressing the audience in Charlotte, host committee member Congressman Ruben Hinojosa (D, Texas) said, "financial literacy means empowerment—the power to manage money, credit, debt and to become responsible workers, heads of households, investors, entrepreneurs and leaders," therefore making it "critical… that every student be as proficient in financial literacy as they are in math, science and reading." Senator Josh Stein (D, North Carolina) declared, "financial literacy is an economic and social justice issue." Panelists agreed that economics and personal finance are best taught from an early age with integration into other subject areas coupled with a stand-alone course.
The esteemed panel of speakers at the DNC luncheon were: John W. Rogers, Jr., Chairman & CEO, Ariel Investments, Chair of the President's Advisory Council on Financial Capability, and panel moderator; June Atkinson, Superintendent of Public Instruction, North Carolina Department of Public Instruction; Rodrick Banks, Vice President and Community Development Officer for the Western North Carolina Regions, Wells Fargo; Pamela Everhart, Senior Vice President of Benefit Policy Development and Thought Leadership for Personal and Workspace Investing ("PWI"), Fidelity Investments; Roger Ferguson, President & CEO, TIAA-CREF; Nicole Lipp, Teacher, Garinger High School, Charlotte, NC; and Senator Josh Stein, North Carolina General Assembly.
Despite Hurricane Isaac, our RNC efforts still made a splash in the news. In Bloomberg Businessweek's "The Art of Going Corporate at Political Conventions," reporter Diane Brady made a special note of the bipartisan nature of our events. The NonProfit Quarterly also took notice of our (intended) presence and what we would have addressed in Tampa, had weather been on our side.
Speakers who were scheduled to take part in the RNC luncheon were: Dr. Janet Baressi, Oklahoma State Superintendent of Public Instruction; Brett Burkey, Teacher, Spanish River High School, FL; Debra Kent Faulk, Community Affairs Officer – Greater Gulf Coast Region, Wells Fargo; Roger Ferguson, President & CEO, TIAA-CREF; Gerard Robinson, Florida Commissioner of Education; and Representative Kelli Stargel, Florida House of Representatives. The Florida Council on Economic Education (FCEE) was instrumental in preparation and outreach for the event.