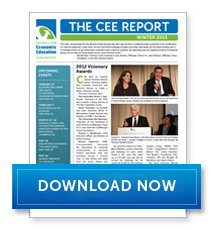 Three times a year the Council for Economic Education releases the CEE Report, highlighting our new and noteworthy events, programs and partnerships, including pilot programs and joint ventures with key supporters.
"Too often, young people fall into financial trouble because they don't take the time to understand basic economics or the ramifications of a financial agreement. Credit cards, car loans and home mortgages are great tools when used wisely, but the recent housing crisis is an example of what can go wrong when consumers make uninformed decisions. By supporting early and ongoing economic and financial literacy, we can help our young people secure a sound financial future."
– Mel Martinez, Chairman of the Southeast & Latin America, JPMorgan Chase & Co. and Chairman, JPMorgan Chase Foundation, at the 2012 Visionary Awards
In This Issue
Upcoming Events
2012 Visionary Awards
Note from Nan
EconomicsPennsylvania Engages Students in Entrepreneurial Experiences
51st Annual Financial Literacy and Economic Education Conference
2012 Accomplishments
CEE Integrates Personal Finance Concepts into Classroom Curriculum
Never Too Young: Personal Finance for K–5 After-School
CEE 's Advocacy Toolkit
Gen i Revolution Goes Mobile: CEE Partners with H&R Block
CEE Launches Interactive Survey of the States
Free Webinars for K–12 Educators
CEE Asked Students 'What Should the Next President Do to Improve the Economy?'
---
2012 Visionary Awards
The Honorable Sheila C. Bair and The Honorable Mel Martinez discuss the importance of financial literacy during a fireside chat moderated by Sharon Epperson.
CEE held its seventh annual Visionary Awards dinner honoring leaders who promote economic and financial literacy to create a better-informed society.
The 2012 honorees were:
The Honorable Sheila C. Bair, Former Chairman of the FDIC and currently a Senior Advisor at The Pew Charitable Trusts;
Karen Finerman, Co-Founder and Chief Executive Officer of Metropolitan Capital Advisors and Panelist on CNBC's Fast Money;
The Honorable Mel Martinez, Chairman of the Southeast & Latin America at JPMorgan Chase & Co. and Chairman of JPMorgan Chase Foundation;
Duncan L. Niederauer, Chief Executive Officer and Director at NYSE Euronext.
Sharon Epperson, CNBC Correspondent, discussed the importance of corporate responsibility in personal finance education with the honorees during a fireside chat. To view photos and video from the event, please visit www.bit.ly/VAphotos.
CEE also awarded three educators with the 2012 McGraw-Hill Teaching Champion Award for excellence in the field of K-12 economics and personal finance education: Edward Alvarez, Assistant Principal at Thomas A. Edison Career Technical Education High School, Jamaica, Queens; Frederick C. Cotterell, Board Director of the New Jersey Council for the Social Studies (NJCSS); and Arlene L. Gardner, President of NJCSS.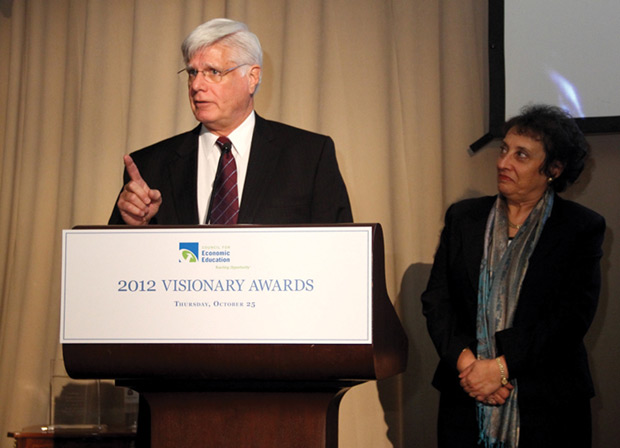 Frederick C. Cotterell, Board Director of the New Jersey Council for the Social Studies (NJCSS) and Arlene L. Gardner, President of NJCSS, accept their 2012 McGraw-Hill Teaching Champion Awards.
Our generous Board Co-Chair, Barry Haimes, issued a matching gift challenge for every dollar raised in the room that night up to $25,000. Not only did we exceed the challenge, but we raised $615,000 for the evening, an event record.
We would like to thank all of our Sponsors and Benefactors who supported this event. Platinum Sponsors: Barry Haimes, JPMorgan Chase & Co., NYSE Euronext and Verizon; Gold Sponsors: Bank of America, HSBC, MBIA, The McGraw-Hill Companies, State Farm and Wells Fargo; Silver Sponsors: Glenn August, Alan Jones, Kevin and Erica Penn, Broadridge, Charles Schwab Foundation, Deak and Company, Eastern Advisors Capital Group, FINRA, Ford Credit, Guggenheim Partners, Willard Hill, Cathy Minehan, The Moody's Foundation, PwC, Travelers, UPS and Douglas M. Woodham and Dayla Inhaber.
The 2013 Visionary Awards Dinner will be held Tuesday, October 22 at The Pierre, New York. We are pleased to announce that our first honoree for 2013 is David Nelms, Chairman and CEO of Discover Financial Services.
If you are interested in purchasing a table, placing a journal ad or sponsorship opportunities, please contact Cathy Levy, VP of Development at 212-730-5658 or clevy@stage.councilforeconed.org.