EconomicsPennsylvania (EconPA), with continued collaboration from the local Centers for Economic Education, trained over 500 teachers in 2012, and will continue outreach efforts in 2013.
New partnerships are leading the way for increased outreach to the state's students. EconPA and Bloomsburg University launched the inaugural Youth Entrepreneurial Experience Camp last year. Thirty-one students from across the state engaged in a 3-day intensive program to learn about business and entrepreneurial skills in a competition.  The camp was an all-expense paid venture for the students, and the top performers received a year of start-up capital and support; both winners have launched their ventures.
EconPA also partnered with the Federal Reserve Bank of Cleveland to host Youth Entrepreneurial Challenge Days, as well as hosting a Day of Learning with Lincoln Financial and Temple University's Fox Business School for Title I Schools in Philadelphia.
Local students received attention as Pennsylvania was home to the first
place national team in the 2012 Capitol Hill Challenge, Lewisburg High
School, which dedicates much of their staff and resources to participating
in the various programs that EconPA offers (photo below).
A major success of EconPA stems from the network of Centers located at universities, school district offices, business corporate centers and local banks for program delivery—ensuring trainers are at ground level to train educators. EconPA continues to raise the stakes for economic and personal finance requirements by working with state legislatures and education specialists such as Michael MacDowell, Managing Director of the Calvin K. Kazanjian Economics Foundation and CEE Board member, who was asked by PA Governor Corbett to serve on a task force on post-secondary education.
EconPA was featured in CEE's Winter 2013 CEE Report; download the newsletter to learn more about their efforts with students and teachers.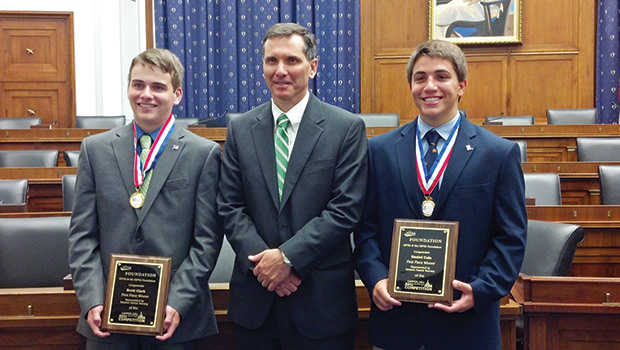 2012 Capitol Hill Challenge winners (l-r) Brett Clark Lewisburg High School student; Mark
DiRocco, Lewisburg Area School District Superintendent; Daniel Cole, Lewisburg High School student.