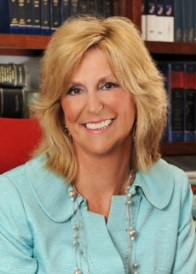 By State Treasurer of Mississippi Lynn Fitch.
On my way to make a speech recently, I made a quick stop at a local convenience store to grab a diet coke.  "That will be $2.28," the young girl smiled.  As I handed her three $1 bills, the cash register chirped and the drawer popped open.  She reached for my change. "Oh wait," I said, "I have three pennies."  Her pleasant smile quickly faded and was replaced with a blank stare into the cash drawer. "Um…..hmmm…..uh…..so…..I'm not sure what to do," she said in a confused, sheepish tone.
It's unfortunate that many of our young people can't count change or do the math.  We must give them the financial skill set and tools to succeed in life so they don't have to learn the hard way.  We must create financial freedom for our children.
The Council for Economic Education (CEE) reports that only four states require at least one semester course in personal finance for high school graduation.  In other states, like Mississippi, it's an elective.  I've seen numbers that show across the nation, more than half of all high school graduates do not receive any financial education in school.  Our students are tomorrow's leaders.  We cannot expect them to make good decisions when faced with the extremely important and complex financial issues to come, without the proper financial education and preparation.  All high school students must know how to plan and budget, balance a checkbook, the benefits and risks of savings and investing, the difference between gross and net income and how to develop good financial habits early on.
Five reasons we need to teach financial literacy in our schools*
1.    In 2010, the same number individuals filed for bankruptcy as graduated from college.
2.    Class of 2009 graduated with an average of $24,000 in student loan debt.
3.    30% of 18-24 year olds spend 30% of income on debt repayment.
4.    75% of college students with credit cards were unaware of late fees.
5.    Consumer debt and bankruptcies are at an all-time high.
*statistics obtained from CEE's
Survey of the States
Until now, educating our children about money and personal finance has been left up to us as parents to teach it at home. The problem is, it's not that easy.   A recent study found one third of parents are more comfortable talking with their kids about smoking, drugs and bullying than about money.   It's tough, I'll admit.  My own 18-year-old daughter thinks I'm too demanding when I ask her to keep track of receipts and balance her checkbook.  "Nobody else in my class has to keep a bright yellow folder in their car Mom!"
In Mississippi, only 6 percent of 10th-12th grade students took the personal finance elective last year.  I have proposed making financial literacy a mandatory course for high school students.  Under the measure, high school students in our state would be required to take one semester course of personal finance before graduation.  I don't think that's too much to ask, to give our children vital, practical financial knowledge. Teaching the ins and outs of managing money is a pretty powerful gift to give a young person.
So let's teach our children about money and their financial freedom at home and at school. Let's make it a priority. CEE reports students from states where a financial education course was required were more likely to display positive financial behaviors.  They were less likely to be compulsive buyers, more likely to save and less likely to max out their credit cards.   Let's change the numbers.  Let's arm our kids with the powerful financial knowledge to succeed in school and in life.  In 2010, according to CEE, the same number of individuals filed for bankruptcy as graduated from college.  We can do better than this.  Our children need and deserve financial literacy.
Follow Lynn on Twitter at @LynnFitch.