By Max Isenberg, student at the University of Pennsylvania.
Education comes in all sorts of forms. In college, your main duty is to learn, be it in the classroom, through extra-curricular activities, or while hanging out with your friends. As a student, however, I have noticed things I never realized I needed to know. Living independently involves a lot of learning on the fly about what your parents once handled for you. Laundry, for example, was this nebulous process in which my mom turned my dirty, worn clothes into fresh clean ones; only when I had to run my first load in my dorm could I appreciate the nuances of the task.
People often learn personal finance as they go, much as they learn how to properly do laundry. However, the stakes are significantly higher than some wrinkly shirts when managing your money. Budgeting, saving, and being fiscally conscious should not be something you start doing when you go to college. The road to financial literacy begins long before you graduate high school, but it is in college or any higher education setting where you can really put into practice your skills and operate more independently. With great power, as the saying goes, comes great responsibility.
Before you arrive on the steps of your dorm, consider doing the following to help you in your transition to greater economic freedom and responsibility:
•    Set up a local bank account: If you are going to school relatively far away from home, scope out the banks located near campus. Some regional banks may have many convenient branches in your new home, so opening a new bank account may make sense. Otherwise, if you already have an account one of the large national banks, make sure there is a branch and ATM within walking distance.
•    Use e-banking features: Banks often allow you to view statements online. This is really useful as it provides a way to track your spending and saving and thus effectively budget your expenditures. Additionally, your bank might have special discount or rebate offers to help save a few dollars, especially while shopping online.
•    Use your debit/credit card when you can: The benefits for using plastic instead of cash are numerous. It is much easier to track your purchases as they will show up as line items on your monthly bill, which helps you monitor your spending closely, and using your credit card helps to establish your credit, which becomes very important down the road should you ever need a bank loan. Many features of e-banking, such as rebates, require you to use your card to receive the benefits offered.
•    Have some skin in the game: Although you may need your parents' help to cover some larger expenditures (tuition, housing, meal plans), having your own hard-earned money motivates you to better manage, monitor, and budget your accounts. Clearly establishing what expenditures you are responsible for will also give you a framework for you to budget your money. Also, just because your main job in college is a student does not mean you cannot get a secondary job and earn money to help supplement what you have going into the semester.
•    Take an economics class! Even if your high school does not offer a targeted seminar or class on personal finance, taking any economics class can provide a very informative experience. While you will learn a lot about monopolies, GDP, and other interesting concepts that will help you do well on your AP tests or in the National Economics Challenge, many ideas also relate to your own personal finance. Interest and the time value of money are especially relevant to understanding your own financial situation.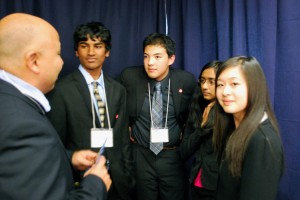 Max Isenberg (center) and his team prepare for a round of
testing in the 2011 National Economics Challenge.
Max Isenberg is a freshman at the University of Pennsylvania Management and Technology Dual Degree Program. He participated with the Harker School in San Jose, CA in CEE's National Economics Challenge Championship in 2011 and 2012.