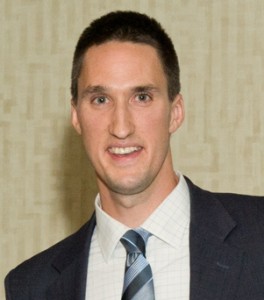 By Mike English, President & CEO, Missouri Council on Economic Education; President, National Association of Economic Educators.
Does the language of Personal Finance intimidate you? Although this subject can be daunting, it is really important and more and more schools now require high school students to take a personal finance class.  Because they are being introduced to the subject for the first time in high school, it can be challenging for many secondary school students.  But imagine being a student in a U.S. classroom who was in a refugee camp just a week before?  How about a student whose parents do not read, write or speak English?
The percentage of young people who speak a language other than English at home is rapidly growing.  The education system classifies these students as English Language Learners (ELL).  Because of the challenges ELL students face, 42% of these students drop out of high school each year.  This language barrier poses more than communication obstacles beyond conversational English at school.  Many content areas have a language of their own.  Educators often assume that students are familiar with this academic language.
Personal finance, like many other subjects, has a specialized language.  Unless teachers take the time to explain this language to ELL students, they will likely fall behind.  Additionally, most ELL students are ingrained in different cultures with different values about money, financial institutions, and gender roles.  It is therefore important that teachers understand these differences so that they can better educate ELL students.
For example, Latino students do not necessarily trust banks.  For many Americans, there is an implicit trust that when you deposit your money in a bank, it will be safe.  As a result, it is common for high school students to have their own checking and/or savings accounts.  Even in low-income areas where the population of unbanked residents is higher than the national average, there is a clear difference between African American students and Latino students.
On the first day of the personal finance class I taught, I collected surveys from 60 high school students at an urban school in Kansas City.  Of the 60 students, 40 identified their race/ethnicity as African American, and t20 self-identified as Hispanic or Latino.  A clear difference in financial behavior emerged:
38% of the African American students reported that they currently have a savings account.
5% of the Latino students reported that they have savings accounts.
Personal finance has a vocabulary of its own.  Before students can comprehend the content, they must be familiar with the concepts and terms.  While this is a new "language" to most Personal Finance students, those with limited English struggle even more.  Not all citizens will become biologists or engineers, but all citizens participate daily in the world of personal finance.
Although the challenges associated with teaching personal finance to ELL students may seem overwhelming, this is also an incredible opportunity to make a lasting difference in the lives of young students and their families.  The United States economic and financial system rewards those who understand its rules, but it can harshly punish those who do not.  By helping ELL students to overcome the communication obstacles they face, teachers have the power to drastically improve the financial literacy of these students and their families.
Follow Mike on Twitter at @moeconomics.