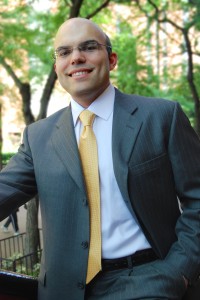 By Mike Periu, President, Proximo, Inc.; CEE Board Member.
My wife and I went out to dinner the other night with our three lovely daughters who are six, three and almost two years of age respectively.  While eating at this family restaurant, I noticed something that – unfortunately – is no longer that unusual; we were one of the few adults that had children and the only ones with more than two. I half-jokingly told my wife "I wonder how much our daughters will have to pay in taxes to support so many future retirees."
My family is from Cuba and my wife is from Nicaragua, and like other Latinos, we have a large family.  According to the National Center for Health Statistics, the fertility rate for Hispanic women in the U.S. is 2.35, far above the replacement rate of 2.1 and significantly higher than the 1.6 experienced by Non-Hispanic, white women.  What this means is that our country's population will be increasingly composed of and influenced by Latinos.  The country's overall standard of living in a few decades will be largely defined by the financial and economic performance of Latinos.
Latino financial condition is cause for concern
Financially, Latinos are one of the least-successful communities in the country.  While there are always exceptions, overall we have lower balances in our savings accounts, more unhealthy debts, lower incomes and higher unemployment than the overall population.  As this less financially-well-off group comprises a larger portion of our population, certain results can't be avoided:
Lower incomes mean less payroll taxes that will be paid to cover Medicare and Social Security expenses for retirees and disabled persons.
Higher unemployment means greater reliance on government assistance programs.
Higher consumer debt balances mean greater risk of bankruptcies which lead to higher financing costs.
Lower savings rates (and lower incomes) mean less consumer economic activity.
Having worked with Latino families for over 10 years, it's clear that the root cause of these problems is financial illiteracy.  Latinos aren't the only ones who suffer from this problem, but the results are far more acute in this community compared to the overall population.  Latino net worth was completely devastated during the housing crisis, as home equity represented the only capital for most of the community.  Seven years later the situation has gotten scarcely better as sectors like construction, where many Latinos were employed with good wages, still have not recuperated. Current government policy focuses more on providing temporary economic assistance rather than seeking long-term solutions to financial success based on self-sufficiency.
This situation must change.  The demographic reality of the U.S. makes it clear that we cannot be prosperous if such a large segment of our population is struggling financially.  We all must take an active interest in the financial literacy of Latinos.  Educational programs in both English and Spanish are important.  The English programs focus on native-born Latinos while Spanish-language programs focus on immigrants. While the kids may be native English speakers, the parents may not be and they are the first teachers of financial literacy.
In addition to education, we also need to effect cultural changes.  The lessons of the housing bubble and the subsequent financial crisis are already being forgotten as consumers starting going into debt again to buy consumer goods. We also need to increase opportunities to participate in and be exposed to entrepreneurship.  For many Latinos who lack the formal education and the connections to achieve success in the corporate world, entrepreneurship will likely be their path to prosperity.  Finally, we need to take risks. The traditional model for financial education – which in large part meant learning along the way – hasn't worked. Its time to try something new.  What are you going to do?
Mike Periu is the founder of Proximo, a leading provider of training and educational programs in finance, entrepreneurship and information technology. He is a nationally recognized speaker, blogger and writer on small-business finance.  Follow Mike on Twitter at @mikeperiu.