By Congressman Rubén Hinojosa, Representing the 15th District of Texas.
In 2005, former Congresswoman Judy Biggert and I came together to form the Financial and Economic Literacy Caucus. Judy, a Republican, and myself, a Democrat, found common ground when it came to the importance of financial literacy. I am happy to report that Congressman Steve Stivers, Republican of Ohio, is our new co-chair for the Caucus. We will once again sponsor a House Resolution declaring April as Financial Literacy Month, and the annual Financial Literacy Day on Capitol Hill will be held on Friday, April 26 in the Cannon Caucus Room in Washington, D.C.
The message of the Caucus is a nonpartisan one: We need to empower young people with the information they need in order to make healthy financial decisions throughout their lives. A focus on financial literacy makes sense for policymakers from either party; financial empowerment can alleviate poverty and attack inequality, while also providing Americans the tools to be financially independent and self-reliant. This will not only ensure their families' own financial security, but will contribute to the stability and growth of the entire economy.
As a member of the House Financial Services Committee, I participated in the development of the Dodd-Frank Wall Street Reform and Consumer Protection Act of 2010. I ensured that improving the financial literacy of Americans was addressed in the legislation through the creation of the Office of Financial Education within the Consumer Financial Protection Bureau. The OFE is busy studying best practices and launching pilot programs across the country to learn more about what works in financial education. In the coming year, we will hear more about what they have discovered. In tight economic times such as these, we need to be especially certain that the programs we fund are evidence-based and have shown to improve financial behaviors.
In Hidalgo County, Texas, in my district in deep South Texas, more than one-in-five residents lack a bank account. This is due to numerous reasons, with lack of trust in financial institutions and lack of financial literacy chief among them. When the Region One Education Service Center, which serves school districts along the U.S.-Mexico border from Laredo to Brownsville, decided to incorporate financial literacy into their GEAR UP college readiness program, they reached out to me. In my 16 years in Congress, I have always been a financial literacy advocate.
Together, my office, the Region One GEAR UP, local financial institutions and financial literacy stakeholders founded the Deep South Texas Financial Literacy Alliance to address not only the students' lack of financial literacy, but also that of their families and communities.
Teaching young people about financial skills can plant a seed in their household; young people often go home and teach their parents and extended families financial literacy essentials as well. The Alliance strives to include the entire family in its scope, by including parents in the financial literacy summits it hosts and encouraging parents, as well as students, to open savings accounts and engage with the mainstream financial system. If policymakers want to increase the amount of financial literacy in their communities, they need to take a holistic approach that addresses the financial habits of the entire family.
Follow Rep. Hinojosa on Facebook.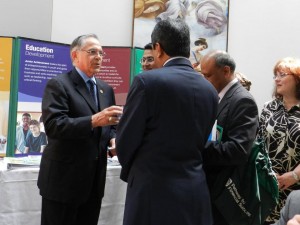 Rep. Ruben Hinojosa speaks with attendees at the 2012
Financial Literacy Day on Capitol Hill.