In This Issue:
Play the New Gen i: Murktide Invasion Game
Congrats to the 2013 Econ Challenge Champs
New Common Core Alignment Tool
Buy the 4th Edition AP Economics
Free Professional Development near You
Sign Up for a Free MyEEL Account
Double Your Dollars during our Challenge Grant
This Day in History
---
Play the New Gen i: Murktide Invasion Game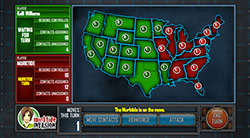 Are you ready to take on the Murktide? CEE is pleased to introduce Gen i: Murktide Invasion, a new interactive game based on Gen i Revolution, that taps into the power of social and digital media to teach your students about saving and investing.
Available online and as a Facebook application, Gen i: Murktide Invasion is designed for students in grades 6–12. The game challenges players to put their investing knowledge to the test, going head-to-head with the "Murktide," a network of double agents spreading false information about finance across the country. Users must answer a series of questions correctly, and then they must use strategic thinking to beat back the Murktide in key regions, and win control of the U.S. map. This game is a fun way to keep students involved during the last days of the school year.
Gen i: Murktide Invasion was made possible by generous funding from H&R Block Dollars & Sense, which works to increase teens' financial fitness nationwide.
---
Congrats to the 2013 Econ Challenge Champs
We are thrilled to announce the winners of the 13th Annual National Economics Challenge, a rigorous academic competition putting students' economic skills and knowledge to the ultimate test. Nailing questions that few adults could answer correctly, Iolani School, Honolulu, HI took home the top prize for the Adam Smith Division, (for AP, IB and honors students) and Little Falls Community High School, Little Falls, MN was named the winner of the David Ricardo Division (for students who have only taken a single-semester economics course). These teams outpaced over 10,000 other students to win an all-expense paid trip to New York City for a two-day competition to determine the overall champions.
The eight Finalist teams placed as follows:
ADAM SMITH DIVISION
1st Place: Iolani School | Honolulu, Hawaii
2nd Place: Choate Rosemary Hall | Wallingford, Connecticut
3rd Place: Mounds View High School | Arden Hills, Minnesota
4th Place: Richard Montgomery High School | Rockville, Maryland
DAVID RICARDO DIVISION
1st Place: Little Falls Community High School | Little Falls, Minnesota
2nd Place: Carmel High School | Carmel, Indiana
3rd Place: Olympia High School | Olympia, Washington
4th Place: Lexington High School | Lexington, Massachusetts
Want to start a team and compete for a chance to win a trip to NYC and cash prizes? Contact the Econ Challenge Team for more info.
---
New Common Core Alignment Tool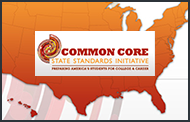 The Common Core Standards Initiative is one of the most significant forces driving K–12 education today, established to bring some uniformity to varied state curricula. Since their release in 2010, the Common Core State Standards (CCSS) has been adopted by 47 states.
In response to this initiative, CEE has aligned much of its high-quality economics and financial literacy lessons to the CCSS in mathematics and English language arts (ELA). In all, 77 CEE lessons have clear alignments to the CCSS in mathematics and 354 lessons to the CCSS in ELA.
Educators can use the new correlation tool to easily search our lessons and find the applicable standards, or they can search the standards and find correlating lessons.
---
Buy the 4th Edition AP Economics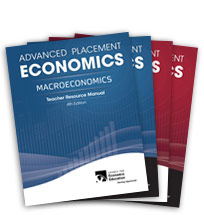 The 4th edition of CEE's AP Economics reflects the adjustments in the AP Course Outlines and Exams in the years since the publication of the 3rd edition. Some changes include paring down content for better emphasis of essential AP economics concepts; revising lessons to utilize contemporary examples; and most importantly, addressing the current state of the test with the addition of new content. In addition, you will see some reorganization of the material in response to teacher feedback.
Stock up now on the new AP and you'll be prepared for your Fall classes. We've discontinued the 3rd edition, so take the summer to get acquainted with the new resources.
---
Free Professional Development near You
CEE and our Network of local affiliates provide free professional development training for K–12 educators in personal finance, economics, business, social studies and entrepreneurship.
Find a local CEE Council or Center and inquire about their summer schedule. Participants receive either graduate credit or non-credit continuing units in addition to free materials.
---
Sign Up for a Free MyEEL Account

EconEdLink is CEE's primary source of free classroom-tested, online economic and personal finance lesson materials for K–12 teachers and their students. With over 800 lessons to choose from, teachers can use as many of the lessons as they would like and as often as they would like. Each of the lessons includes a teacher's version as well as a student's version. Each of the lessons are designed to be delivered in a variety of formats and classroom settings.
Sign up for a free MyEEL account and you'll have the ability to save lessons, add notes to your saved lessons and receive notifications when new resources are available.
---
Double Your Dollars during our Challenge Grant
Donate today to CEE's Challenge Grant and help us reach more teachers and students!
As educators, you've made a commitment to teaching your students the fourth "R"—a real-world understanding of economics and personal finance. You've experienced firsthand the programs offered by the Council for Economic Education—professional workshops, curriculum development, materials and national competitions—and you know their value.
We hope you'll consider making a donation to CEE so we can continue to support the important work you do. If you contribute before June 30, your gift will be matched through a $175,000 Challenge Grant from two of our generous board members. Those are economics we can all understand!
To contribute, click here.
---
This Day in History
The Calendar of Historical Events provides 365 days-worth of historical facts and interesting developments in personal finance and economics. See what happened on this day in history, and use the related lessons in your classroom.
June 7, 1955
Quiz Show Makes Money and Problems for Television Networks
On this day in 1955, CBS unveiled the quiz show The $64,000 Question that took the American viewing audience by storm and caused the creation of droves of spin-offs. The success of the show that made CBS millions was short-lived; in 1958 the FCC discovered that contestants were provided answers to the questions beforehand. This scandal caused the television networks to pull their quiz shows from the air.

June 22, 1775
America's First Currency Note
On this day in 1775 the Continental Congress issued a paper currency later dubbed the "Continental." This currency was put in place to help the colonies finance their revolution against Great Britain. This new currency never really inspired the faith of the populous and quickly lost what little value it had to begin with. George Washington noted, "A wagonload of currency will hardly purchase a wagonload of provisions." By the end of the war the new currency had left the new nation with a sizable war debt and a shaken faith in paper currency. It was not until the dawn of the Civil War that new notes were issued.

June 28, 1919
Keynes Predicts Great Depression
On this day in 1919, famous economist John Maynard Keynes left Versailles Peace Conference in France in protest of the Treaty. Keynes predicted that the penalties imposed on the Germany for World War One would not only cripple the country economically, but would in turn lead to economic and political repercussions throughout the world. These predictions held true when the world plunged into an economic depression in the late 1920s.