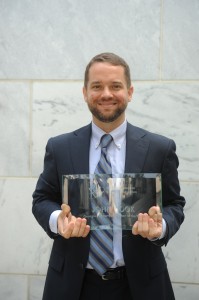 The Council for Economic Education proudly congratulates John Cook, Georgia Economics Teacher of the Year, awarded by the Georgia Council on Economic Education.
John Cook had two teachers growing up in Cordele, Ga., – Janet Robinson and Sharon Stewart – who had such an impact on his learning, they inspired his teaching style.
"They made their subjects come alive in a way that continues to stay with me," says Cook, who now teaches economics at South Effingham High School in Guyton, Georgia.  "Mrs. Stewart taught my enrichment class in middle school, and we were always putting on radio plays or doing activities like building bridges out of toothpicks. Mrs. Robinson was my ninth grade English teacher, and she was great at getting me excited about reading and writing. I remember both teachers' classrooms always being welcoming, exciting places. They both gave me a love for school."
He takes a page from the books of his two teachers and continually finds way to make learning fun and interactive in his classroom. It has paid off: His Advanced Placement students consistently achieve high scores on the economics AP exam and he has over a 90 percent pass rate on the state-mandated End-of-Course-Test in economics.
"John's daily instruction includes frequent use of simulations, small group activities, instructional computer games and other methods to actively engage his students," says Mark Winters, principal of South Effingham High School. "He routinely goes above and beyond dedication to his students and his subject area."
To illustrate the Consumer Price Index, Cook has students create a market basket of goods so they can create a price index to measure inflation from one year to the next. The team of students whose inflation measure is closest to that of the Consumer Price Index wins.
"By letting them create their own index, they get a much better understanding of the concept," he says. "Plus they love the idea of a competition."
To show how the concepts apply to the real world, Cook brings in guest speakers. The owner of a local car dealership has told the students about what he looks for in potential hires and how his business secures financing for car buyers. A cotton farmer has addressed subsidies, trade barriers, taxes and sole proprietorships. "Anytime there's an opportunity to bring in a new voice with a different perspective, it's beneficial," he says. "Sometimes my students pay closer attention to a voice if it comes from outside the school. They have an instinctive respect for people who have found success in the business world."
Cook's path to the classroom has been circuitous. He started out as a psychology major at Armstrong Atlantic State University, but switched to economics mid-way. Though he didn't plan on being an economics teacher, he was having so much "fun" in his economics classes that he could see himself teaching the subject at some point. But not right away.
After graduating in 2005, he took a job at Wachovia bank as a service transaction specialist, opening and closing accounts, filling in for absent branch managers, and providing service on accounts. "After working a number of positions in the bank for three years, I needed a change," he says. "I decided I wanted to teach."
Cook found a job teaching economics at South Effingham in 2008. Even after five years, he is constantly looking for new ways to teach the material, and relies on the Georgia Council for ideas. "The Georgia Council's workshops have definitely been the biggest source of ideas," he says. "They really work hard to provide teachers with high- quality lessons." He also values the opportunity to interact and network with other economics teachers around the state. "Keeping it fresh is so important, and for me that means putting in the time to craft lessons, seeking out the workshops, and keeping the lines of communication open with my fellow economics teachers."
Cook received his master's degree in teaching from Georgia Southern University and is currently working towards a doctorate in curriculum studies there as well. While Cook has had success in his classroom and praise from administrators, he feels like he has a ways to go in terms of living up to the quality of teaching of his two mentors. "I'm definitely not at their level yet," he says. "I'm still aspiring to be like them."