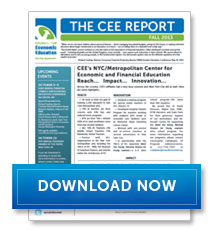 Three times a year the Council for Economic Education releases the CEE Report, highlighting our new and noteworthy events, programs and partnerships, including pilot programs and joint ventures with key supporters.
"When we do not teach children about personal finance—about managing household budgets, saving for the future, or making informed decisions about larger investments in an education or a home—we are failing them in a shameful and costly way.
The United States cannot continue to miss the mark on the importance of financial education. Other developed countries around the world—including Australia and the United Kingdom, most recently—now require such instruction in their schools. We cannot afford to fall behind, and to fail our young people, in this fundamental respect. Our democratic system rests on the effective operation of a free market economy."
– Richard Cordray
Director, Consumer Financial Protection Bureau, FINRA
Investor Education Conference, May 29, 2013
In This Issue
Upcoming Events
CEE's NYC/Metropolitan Center for Economic and Financial Education
Note from Nan
The Texas Council on Economic Education
New Board Member: At a Glance
Vantage Point: Economic Perspectives from Wall Street Women
Thanks to You, CEE Exceeded Its 2013 Spring Appeal Goal
Join CEE's Young Executive Council
Affiliate Achievements
The 2013 CEE Visionary Awards
---
CEE's NYC/Metropolitan Center for Economic and Financial Education
Reach… Impact… Innovation…
Across the country, CEE's affiliates had a very busy summer and New York City did as well. Here are some highlights…
Reach
On track to meet our goal of training 2,300 educators in New York Metropolitan area
75% of teachers are from schools with 50% free and reduced lunch programs
87% are from Title I schools (40% of its total enrollment come from low-income families)
Mix: 50% HS Teachers; 25% Middle School Teachers; 25% Elementary School Teachers
Partner with 60+ organizations in the New York metropolitan area including the YMCA of NY, WISE, the Museum of American Finance, and schools within the Archdiocese of NY
Innovation
Initiated a training program for special needs teachers in NYC District 75
Developed Hospital Schools Program for teachers working with students who reside in extended care facilities such as Memorial Sloan Kettering Cancer Center
Worked with pre-service and in-service teachers at several universities in New York City
In partnership with the YMCA of NY, launched Never Too Young: Personal Finance for Young Learners—a K–5 after school program—for more than 400 students.
Impact