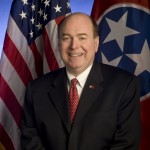 By Treasurer David H. Lillard, Jr., Tennessee Department of Treasury
Over the last twenty years, households in the United States have noticed an increase in debt load and decrease in overall savings and retirement funding.  Many of these expenses are related to education for the Millennial generation and longer life expectancy for the Baby Boomer generation.  While higher lifetime income levels should offset the increasing costs, many people do not have the personal finance tools necessary to hedge the increasing cost for these expenses.  Studies conducted by the Financial Services Review in 2007 determined that personal finance is a topic that affects all career levels in all disciplines.  This study is especially relevant in Tennessee as our state has one of the highest average credit card debts at $7,054 per person and the highest per capital bankruptcy filings at 6.59 per 1,000 people.Our state's initiatives, created through the Financial Literacy Program Act of 2010, serves to educate students on the foundations of personal finance and to foster an understanding of how these concepts will affect their short and long- term goals.   The Tennessee Financial Literacy Commission (TNFLC) has been pivotal in changing the landscape to ensure future Tennesseans have access to education that will help them make sound financial decisions throughout their lives.  Our state, in partnership with the Council for Economic Education is working towards achieving our vision goals for the TNFLC:
Increase the college savings rate of Tennesseans
Increase the average savings rate of low income families
Increase the average rate of retirement savings of Tennesseans
Financial education is more than just a lecture topic for an undergraduate's Intro to College course and certainly more than a water cooler conversation with the "expert investor" at your place of employment. It is a subject that can benefit every person, within every career, in every stage within their lives- the smart way to use, save, and invest your hard earned dollars.   A financially literate population has a lower debt- to equity ratio, an awareness of college savings, and understands the difference between retiring comfortably and establishing generational wealth.  This is the message our staff and administration has worked to promote since taking office.
 "Financial literacy is not an end in itself, but a step-by-step process. It begins in childhood and continues throughout a person's life all the way to retirement. Instilling the financial-literacy message in children is especially important, because they will carry it for the rest of their lives." 
– George Carl