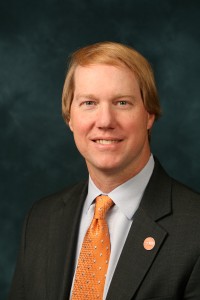 By David Nelms, Chairman & CEO of Discover Financial Services
Financial education in school, coupled with regular money discussions at home, is necessary to help students become knowledgeable about money, establish good financial habits and avoid the economic pitfalls that can derail them from achieving their goals. As parents, teachers and community and business leaders, we are accountable for providing young people with access to academic instruction and life skills training. When we fail to do so, we deprive them of the knowledge they need to make good financial decisions that have lasting implications to their futures.
National Financial Literacy Month presents an opportunity for each of us to recommit to our collective goal of ensuring all students graduate high school with the academic and financial skills they need to succeed.  We are making progress, as the Council for Economic Education (CEE) revealed in its most recent Survey of the States report: More states are implementing standards in economics and four additional states now require students to take a personal finance course as a high school graduation requirement, bringing the total to 17.
Each step toward making financial education part of the curriculum in all our schools is to be celebrated, but we cannot expect schools and teachers to carry the mantle alone. At home, discussions about money, saving and planning for the future need to become as commonplace and as important as talk about school, sports and current events. Private enterprise also needs to support financial education and the work of teachers across the country by helping fund and provide resources for these programs in school and at home.
I have seen firsthand the power of public-private partnership in bridging the financial literacy gap. Since 2012, Discover's Pathway to Financial Success program has awarded grants to nearly 500 schools across the country. As a result, students are learning about budgets, saving, debt, compound interest, credit cards and investing – lessons critical to their future success regardless of the career paths they choose. For example, Lisa Bender, a teacher at South Garrett High School in Oakland, Md., used part of grant monies she received to purchase new technology to reach more students through her economics management course. She is now able to connect with 200 students each year, up from just 20 a year ago. Students in Garrett County are now required to take Lisa's course, meaning more students will graduate high school with financial knowledge.
There are countless teachers like Lisa and districts like Garrett County across the nation. This month, we recognize and applaud them for their commitment to helping students prepare for independence by teaching them money skills.
Become an advocate for economic education and support financial literacy for all students. We simply cannot afford to miss making this investment in their future. Here are ways you can be an advocate for our children:
If you are a parent,
Talk early and often with your kids about money, the importance of budgets and saving and the concept of compounding interest. Open a savings account for your child and celebrate this important milestone.
Model good financial behavior; if you need to brush up on your own financial skills, there are many excellent resources online that offer information and tools to help, including the American Institute of Certified Public Accountants 360 Degrees of Financial Literacy.
Contact your local schools and talk to them about the importance of offering  financial education.
If you are a teacher,
Thank you for championing financial literacy for our students! Apply for a grant through Pathway to Financial Success to fund financial education initiatives at your high school.
Take advantage of CEE's professional development offerings and visit the Council's website to find lesson plans designed to help you reach students about personal finance topics, such as saving and investing.
Visit Jump$tart Coalition's database of free financial education resources for teachers and parents.
Make learning fun with games like those found at http://financialentertainment.org/.