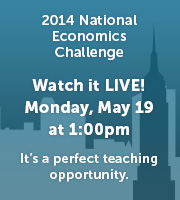 Eight Finalist Teams Compete for Championship, Chance to Ring NYSE Closing Bell
Not too many adults know the difference between an IRA and a 401k, let alone Keynesian and Monetarist theories. But eight high school teams nailed these and other brainbusters to compete in the final rounds of the 14th Annual National Economics Challenge. This year's winners have outpaced over 10,500 students to vie for more than just the championship: the victors will also ring the closing bell on the New York Stock Exchange!
The National Economics Challenge, hosted by the Council for Economic Education, applies the excitement of an athletic competition to academic excellence. Competitions are held at the State, National Semi-Final, and National Final levels in two divisions: the Adam Smith Division (for advanced placement, international baccalaureate and honors students) and the David Ricardo Division (for students who have only taken a single semester economics course). Topics covered include micro- and macro-economic priorities, international and current events.
The finals, held May 18-19 in New York City, include written exams, a critical thinking round and culminate in a "quiz-bowl" round held at WNET Studios at Lincoln Center. The quiz bowl will be co-hosted by CNBC Senior Economics Reporter Steve Liesman, and will also include special guest video questions from Janet Yellen, the Chair of the Board of Governors of the Federal Reserve.
The winners not only take home the trophy, they depart immediately from the studio to the floor of the New York Stock Exchange to ring the closing bell!
Watch the final round of the competition live on Monday, May 19th at 1 PM at WNET Studios at Lincoln Center in Manhattan by tuning into our Facebook page www.facebook.com/councilforeconed.
ADAM SMITH DIVISION
Bellaire High School/Bellaire, Texas
Carmel High School/Carmel, Indiana
Iolani School/Honolulu, Hawaii
Grissom High School/Huntsville, Alabama
DAVID RICARDO DIVISION
Little Falls Community High School/Little Falls, Minnesota
Carmel High School/Carmel, Indiana
Hunter College High School/New York, New York
Souderton Area High School/Souderton, Pennsylvania
For more information visit stage.councilforeconed.org/econchallenge.