The 14th Annual National Economics Challenge culminated with an exciting quiz bowl Monday, May 19. This year's Challenge saw a record number of participants, over 10,500 students from 40 states, with four elite teams per division competing in the final round. The quiz bowl ended with a nail biting finish- each team won by just one point.  After such a thrilling competition CEE gives special recognition to the first place winners for each division.
Hunter College High School of New York, New York earned first place in the David Ricardo Division and Bellaire High School of Bellaire, Texas took first place in the Adam Smith Division. The two winning teams were invited to ring the closing bell at the New York Stock Exchange immediately following the competition.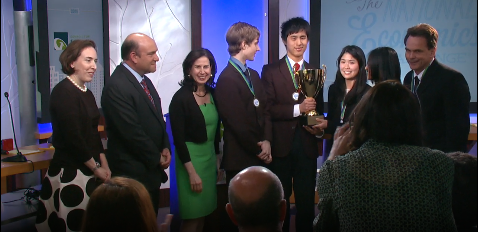 CEE would like to thank all teams for their hard work and participation. Final challenge rankings are as follows:
DAVID RICARDO DIVISION (Single semester general economics students)
Hunter College High School/New York, New York
Little Falls Community High School/Little Falls, Minnesota
Carmel High School/Carmel, Indiana
Souderton Area High School/Souderton, Pennsylvania
ADAM SMITH DIVISION(AP, IB and honors students)
Bellaire High School/Bellaire, Texas
Carmel High School/Carmel, Indiana
Iolani School/Honolulu, Hawaii
Grissom High School/Huntsville, Alabama
The 2014 National Economics Challenge was sponsored by State Farm.
Video of the quiz bowl is available on-demand on our Facebook page.
Voting for finalist videos remains open through Friday, May 23 until 5:00pm ET.  Visit our Facebook page to vote.