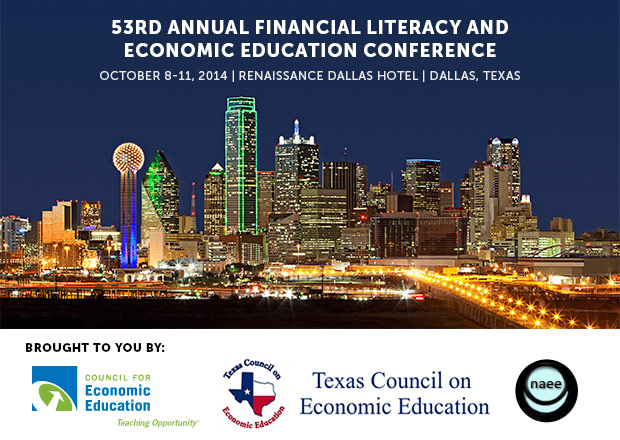 Council for Economic Education to Host 500+ Attendees at Annual Conference 
DALLAS, TX (September 23, 2014) – The U.S. ranks square in the middle of the pack and far below expectations in financial literacy, according to recently released data from the OECD Programme for International Student Assessment (PISA). But fortunately, there are a growing number of educators, organizations and experts who are working to raise the bar for financial literacy education—and many of them will convene in Dallas next month for the 53rd Annual Financial and Economic Literacy Conference.
The Annual Conference, hosted by the Council for Economic Education, will bring together over 500 K–12 educators, industry thought leaders, representatives of the Federal Reserve and partners from across the country. The Annual Conference is designed to help teachers incorporate economic and financial literacy in the classroom, offering an incredible opportunity to exchange ideas and share best practices.
Attendees will also have the chance to hear insights from economic luminaries including:
Richard W. Fisher, President and Chief Executive Officer, Federal Reserve Bank of Dallas
Professor Alan B. Krueger, Bendheim Professor of Economics and Public Affairs at Princeton University. Professor Krueger served as Chairman of President Barack Obama's Council of Economic Advisers and a Member of his Cabinet from November 2011 to August 2013.
Friday, October 10, Opening Plenary Session, 10:30am – 12:00pm
Kelli Grant, Personal Finance and Consumer Spending Reporter, CNBC.com
With networking events and over 100 hands-on training sessions, teachers can attest to the conference's invaluable benefits: 96% of 2013 attendees reported that they are still using information or resources they gained at the conference; and 100% of attendees would recommend CEE's Annual Conference to a colleague. Additionally, special roundtable sessions led by master teachers offer an opportunity to share best practices at the elementary, middle and high school levels.
The 53rd Annual Financial and Economic Literacy Conference will be held October 8–11 at the Renaissance Dallas Hotel in Dallas, Texas. The conference is made possible by the generous support of Lead Sponsor Wells Fargo; National Teacher Awards Sponsor Bank of America; Silver Sponsor Discover Financial Services; Teacher Leader Support Sponsor Ally; Bronze Sponsor Higher One; Conference Sponsor Frost; and the Federal Reserve System.
For more information about the Annual Conference and to register please visit: stage.councilforeconed.org/events/cee-national-conference/
About the Council for Economic Education
The Council for Economic Education is the leading organization in the United States that focuses on the economic and financial education of students from kindergarten through high school—and we have been doing so for 65 years. We carry out our mission by educating the educators: providing the curriculum tools, the pedagogical support, and the community of peers that instruct, inspire, and guide. All resources and programs are developed by educators, and delivered by our national network of affiliates. Our goal is to reach and teach every child. Each year CEE's programs reach more than 55,000 K–12 teachers and over 5 million students across the United States. For further information about the Council for Economic Education go to: stage.councilforeconed.org.