Financial Literacy Pioneer Recognized for Extraordinary Work to Advance Awareness of Economic and Financial Education
WASHINGTON, DC (January 15, 2014) The Council for Economic Education is delighted to announce that Prof. Annamaria Lusardi of George Washington University (GW) will be honored with the 2014 William A. Forbes Public Awareness Award, recognizing her extraordinary work to advance public awareness of the importance of economic and financial education.
A pioneer in the study of financial literacy, Prof. Lusardi is widely renowned for her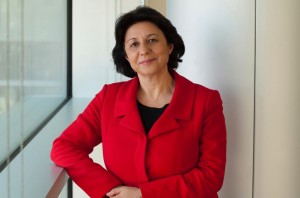 extraordinary contributions to the field. Among her numerous achievements, she designeda measurement of financial literacy that has been used in national surveys around the world, while her theoretical and empirical work has helped to make a compelling case for the cost and consequences of financial illiteracy. She has published many papers and two books on the topic of financial literacy and also edited special issues on financial literacy for the Journal of Pension Economics and Finance andNumeracy.          
Prof. Lusardi currently serves as the Academic Director of the Global Financial Literacy Excellence Center  (GFLEC) and is the Denit Trust Chair of Economics and Accountancy at GW.  Previously, she was the Joel Z. and Susan Hyatt Professor of Economics at Dartmouth College, where she taught for twenty years.  She has also taught at her alma mater Princeton University, the University of Chicago Public Policy School, the University of Chicago Booth School of Business, and Columbia Business School. In 2008 she was a visiting scholar at Harvard Business School.  Prof. Lusardi also chairs the Research Committee at the OECD/International Network on Financial Education and the Programme for International Student Assessment (PISA)'s financial literacy expert group.
As the winner of the Forbes Award, Prof. Lusardi will also receive a monetary reward of $1000, made possible by a gift from the Calvin K. Kazanjian Economics Foundation to CEE.  In his lifetime, Calvin K. Kazanjian was an ardent supporter of economic literacy programs.  Fittingly, entrepreneur William Forbes, for whom this award is named, helped catapult Mr. Kazanjian's small confectionary company—Peter Paul Almond Joy—into an industry leader.
"Through her groundbreaking work as a researcher and advocate, Annamaria Lusardi has been a leading voice in the national conversation on financial literacy, raising global awareness of its critical need," said Nan J. Morrison, CEO and President, Council for Economic Education.  "She has been a trusted advisor to CEE for many years, sharing her expertise in the field and helping to shape our own initiatives.  It is our honor to present Annamaria with this award."
Prof. Lusardi will be formally presented with the Forbes Award in April 2015.
About the Council for Economic Education
The Council for Economic Education is the leading organization in the United States that focuses on the economic and financial education of students from kindergarten through high school – and we have been doing so for 65 years. We carry out our mission by educating the educators: providing the curriculum tools, the pedagogical support, and the community of peers that instruct, inspire, and guide. All resources and programs are developed by educators, and delivered by our national network of affiliates. Our goal is to reach and teach every child. Each year CEE's programs reach more than 55,000 K-12 teachers and over 5 million students across the United States.  For further information about the Council for Economic Education go to:http://www.councilforeconed.org
For more information visit our website, stage.councilforeconed.org
And our Facebook page, www.facebook.com/councilforeconed
Follow us on Twitter @council4econed