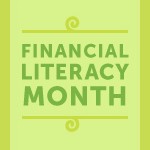 April is Financial Literacy Month! Throughout the month, CEE and our affiliates will be conducting a full roster of events to shine a spotlight on the importance of economic and financial education. As part of our efforts, we will be sharing perspectives from leaders in the field right there on our blog. Look out for essays from guest bloggers throughout the month of April, including:
United States Senator Patty Murray, Senior Senator from Washington, Ranking Member on the Senate Committee on Health, Education, Labor, and Pensions
Congressman Steve Stivers, Ohio's 15th District, Co-Chair of the House Financial and Economic Literacy Caucus
Richard Cordray, Director of the Consumer Financial Protection Bureau
David Wessel, Director of the Hutchins Center on Fiscal and Monetary Policy at the Brookings Institution
Raymond W. McDaniel, Jr., President and Chief Executive Officer, Moody's Corporation
Kelli Grant, Consumer Reporter, CNBC.com
… and more!
In addition to these to these great guest bloggers, we will also be featuring "Money Math Mondays" every week to introduce key concepts focused on financial literacy. These posts will provide fun number problems that parents can do with their kids from Bedtime Math and will link to lessons that relate to the topic on EconEdLink.