By Darren Gurney, Economics Teacher, New Rochelle High School, New Rochelle, NY, 2014 Alfred P. Sloan Foundation Teaching Champion Awardee.
As an educator, nothing is more powerful than teaching financial literacy. Having taught a variety of social studies topics during the past 18 years as a teacher, I know that financial literacy is as valuable as any topic that students are exposed to in their schooling. Moreover, other than health education no subject is as "real world" applicable as exposing adolescents to personal financial issues.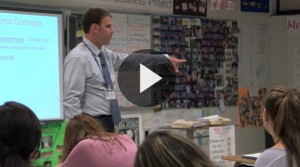 When students enter my classroom for the first time, it astonishes me how little they know about basic financial concepts. Balancing a checkbook, using credit cards, understanding mortgage rates, contributing to retirement accounts, stock/bond investing, using debit cards, opening savings accounts, applying for car loans, and other day-to-day financial areas are topics which students are not exposed to in their primary education. These are activities that all adults face in their daily lives. Why are children taught trigonometry, chemistry, and other concepts that are irrelevant to their existence? Perhaps our schools' inability to evolve past our "liberal arts" educational goals or a dependence on our countries' long standing subject areas, the content provided to our students and future citizens is nonsensical.
Why not create educational curriculums that focus on material which students of all educational abilities will utilize later in their lives? Schools should be focused on teaching skills, such as critical thinking, analytical, public speaking, writing, arithmetic, and communicating effectively with others (socialization). The content used to foster these skills is largely insignificant. But, in learning these skills it serves our nation best by introducing financial literacy concepts that our youth will deal with daily as they age and move through college and into their careers.
Most of all, students enjoy learning about financial literacy. Stock market investing competitions, studying entrepreneurs and small business topics, completing tax returns, studying mortgage rates and real estate prices, and analyzing state/federal taxation policies ultimately motivates students a great deal. Why should we force our children to battle through William Shakespeare's writing or memorize terms like mitochondria or pi, when most Americans are financially illiterate? Maybe if we channel our energies in these areas, the typical US household will not be saddled with so much debt. In turn, our nation's leaders may be able to do a better job of not growing our $17 trillion national debt.