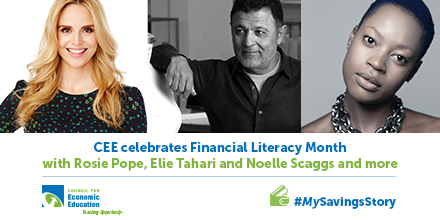 Happy Financial Literacy Month!
The Council for Economic Education (CEE) is thrilled to announce the launch of the #MySavingsStory Video Campaign to inform and inspire kids to understand and take control of their financial lives. We've enlisted fashion designer Elie Tahari, best-selling author of Diary of A Wimpy Kid, Jeff Kinney, entrepreneur Rosie Pope, and others to share, via videos, what they've learned about the importance of financial literacy and saving.
Below you will find the names of those involved and dates when their videos will be released throughout Financial Literacy Month. Make sure to check our Facebook page to watch their #MySavingsStory videos and hear their personal finance stories and savings advice firsthand!
We are so grateful to all who have joined the cause:
 April 1: Rosie Pope, Entrepreneur
April 3: Brian Kelly, The Points Guy, Entrepreneur and Blogger
April 6: Melissa Giannini, Editor-in-Chief, Nylon Magazine
April 8: Noelle Scaggs, Fitz and The Tantrums Vocalist
April 10: Natalie Zfat, Social Media Entrepreneur
April 13: Nan J. Morrison, President & CEO, Council for Economic Education
April 16: John Dioso, Executive Director of Editorial Operations, Glamour Magazine
April 18: Jeff Kinney, Author, Diary of A Wimpy Kid
April 20: Elie Tahari, Fashion Designer
April 22: Mona Patel, CEO & Founder, Motivate Design
April 23: Annamaria Lusardi, Denit Trust Distinguished Scholar and Professor of Economics and Accountancy, George Washington School of Business
April 24: Dan Kadlec, Journalist, Time Magazine
April 26: Veeral Rathod, CEO & Founder, J. Hilburn
April 28: Kelli Grant, Consumer Reporter, CNBC.com
April 30: Jeff Lacker, American Economist and President of the Federal Reserve Bank of Richmond
Through these personal stories, we hope to demonstrate how critically important financial literacy is for our nation's students.
Also, we encourage you to share your own #MySavingsStory with us! You can do so by creating your own video (60 seconds or less) or by posting a personal finance story/lesson to your Facebook page and/or blog. Make sure to use the #MySavingsStory hashtag when sharing and tweet us at @council4econed so, we can further spread your story.