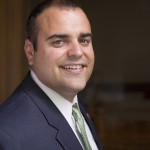 Written by: Brian Page, Chair, Council for Economic Education Teacher Advisory Council
Later this spring, high schools across the country will be graduating students from a world of test scores to a world of credit scores. Many teens will unknowingly be making decisions that will impact them in the decade to come. Yet most lawmakers have fallen short of respecting personal finance as a dedicated subject worthy of stand alone classes required for graduation, taught by teachers trained to teach it well. It's time we work together to advocate on behalf of high school students to prepare them for the real world.
High school science, math and language arts teachers receive content specific instruction in college, and are required to pass content specific tests to earn teacher certification. Personal finance… not so much. Often times when mandates are passed, they require the integration of personal finance into other coursework. The mandate is often dumped into the laps of teachers who have never been trained to teach personal finance.
A FINRA Investor Education Foundation-funded study, State Financial Education Mandates: It's All in the Implementation, examined the effectiveness of state mandates on financial education for high-school students. The study noted that if a rigorous financial education program is carefully implemented, it can improve the credit scores and lower the probability of credit delinquency for young adults. In other words, we need to train our teachers, require semester courses devoted to personal finance, and use hands on teaching methods that focus on relevant content.
NCLB aside, our country has historically been a locally controlled education system. This changed following the financial collapse in 2008. Somehow a banking collapse led to education "reform", and schools were faced with a multitude of new evaluation systems and testing requirements. Subsequently, schools and lawmakers now seem to lack the appetite to pass further education mandates. This should not preclude us from trying, using a common sense approach that does not further burden our schools. I'm confident that if asked, parents and teens would be much happier about recent reform efforts if standardized test scores were a little less important, and helping them build their own credit scores were a little more important.