IT'S ELECTION SEASON

And we want to get K-12 students thinking about the next president and the economic future of the country. That's why we're inviting you to participate in our election video contest!
WHAT SHOULD THE VIDEO BE ABOUT?
We're asking you to record one or a group of students answering the following question in 60 seconds or less:
"WHAT SHOULD THE NEXT PRESIDENT DO TO IMPROVE THE ECONOMY?"
BE CREATIVE! Video entries must be less than 60 seconds. All entries must be submitted by 11:59 pm, September 30th, 2016.
WINNERS & PRIZES
There are two winners for the CEE Video contest:

Viewers' Choice will be selected by popular vote (voting begins October 3rd, 2016). The Economists' Choice will be selected by CEE's panel of judges. Winning teams (2) will receive a $500 AMEX gift card for the teacher and $25 AMEX gift cards for each participating student. Winners will be announced on October 12, 2016.
READY TO ENTER?
Please review the rules and FAQs before entering the contest. Teachers must enter the videos on behalf of their students. Teachers may enter more than one video per class.
CEE is a bipartisan non-profit organization; no candidates can be mentioned by name or imitated.
---
NEED SOME INSPIRATION?

---
COMPLIMENTARY LESSON PLANS

While your students are busy putting their videos together, bolster their learning experience with lessons on the election cycle and the U.S government.
---
PROMOTE THE CONTEST

Get other teachers and students involved in the video contest. We've put together some images to help you spread the word.
To use an image, follow these easy steps:
Choose which image you want to include on your web site from the options below.
Copy and paste the corresponding HTML code into your web page

Triple-click the text to select
---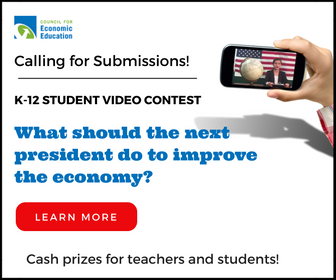 Triple-click the text to select
---
Triple-click the text to select
---

Triple-click the text to select
---