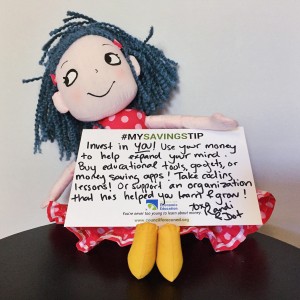 On April 1, the Council for Economic Education (CEE) will kick off a month-long financial literacy campaign, enlisting Mark Cuban, Beth Kobliner, Ron Lieber, Andrew Ross Sorkin, Alexa von Tobel, Randi Zuckerberg and others to raise awareness for personal finance and economic education in our nation's schools. Participants will share personal savings tips on social media to inform and inspire kids to understand and take control of their financial lives.
With early and continued exposure to personal finance and economics, kids grow up to be better savers, investors, borrowers, voters and participants in the global economy. They can make better financial decisions for themselves and their families. CEE, in partnership with entrepreneur Natalie Zfat and economists, entrepreneurs, business leaders and journalists (see full list below) will be sharing their savings tips, in hopes to inspire kids to understand how critically important financial literacy is to set foundations for their lives and careers.
"We're excited to launch the My Savings Tip campaign with Natalie Zfat and this group of inspiring participants to showcase the importance of financial literacy," said Nan J. Morrison, CEO and President, CEE.  "Hearing directly from experienced leaders and entrepreneurs about their personal savings tips is a powerful message—we can't thank them enough for helping to inspire young people through their messages.
"I can't think of anything more important than a child's education," said Natalie Zfat. "It's an honor to work with CEE again to help teach kids how saving is such an integral part of success."
The #MySavingsTip campaign will run across multiple social media platforms throughout April to get kids talking about how to create lives of possibility. You can follow along via our Twitter and Facebook pages.
List of Participants: