---
"Education is the most powerful weapon which you can use to change the world."  – Nelson Mandela
---
To fully appreciate this blog, we must first get real about the state of financial literacy in our country. 

The case for teaching teachers:
Research suggests that children begin developing attitudes and behaviors about money as young as six or seven, the same age most enter their first formal educational setting.  Surprisingly though, only 17 states require high school students to complete a course in personal finance.  According to the University of Wisconsin-Madison, 89% of teachers believe more should be done, but only 20% feel "very confident" to deliver any of the six curriculum topics surveyed.
Opportunity knocking…
In 2015, The North Carolina Council on Economic Education (Winner of the 2018 CEE Council of the Year Award) and Fidelity Investments® set out to change the narrative.  The original vision: Develop a stand-alone financial literacy professional development workshop designed to fully equip teachers with the resources needed to help students appreciate the importance of personal finance.  As the program quickly grew in popularity, so did a desire from educators to further improve their own understanding too.  Insert Jump$tatrt and their acclaimed "Financial Foundations for Educators" curriculum.  This combination of knowledge AND tools was the secret sauce for a lasting solution that continues to inspire financial futures today.  "Teacher Trainings" are now hosted in all 11 Fidelity Investments locations across the United States.
"When we can share our expertise, especially with the community, it's an authentic way to give back and make a difference."  – Pamela Everhart, Head of Regional Public Affairs and Community Relations, Fidelity Investments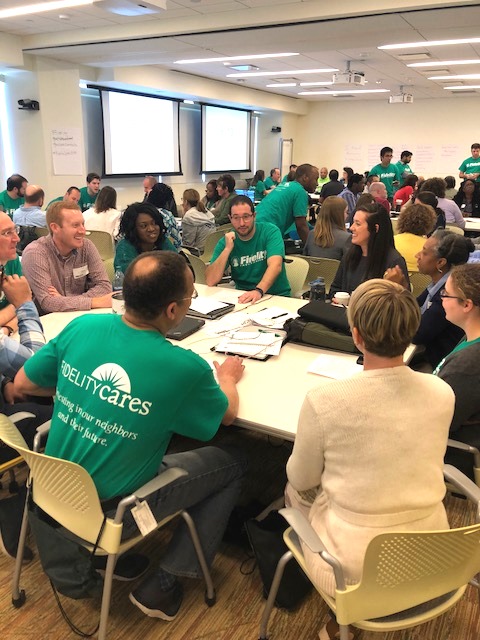 Student impact multiplier effect: 
Since inception, the program has reached more than 1,400 teachers and, in turn, 150,000+ students.
"I look back at my younger self and I think about what I wish I'd known.  To be able to introduce these concepts to my students means they're getting a jump start in life." 
– Krista Scarlett, Teacher, Goffstown High School, NH.
With more and more young people acquiring student loan debt, the need for personal finance is more dire than ever.  CEE will continue to play our part and – together with you – help combat those earlier, opportunistic statistics…one deserving student and teacher at a time.
Learn more about our mission and visit our free K-12 teacher website, EconEdLink where you can find personal finance and economic lesson plans, digital activities, videos, webinars, and more.