---

David Wessel
Keynote Speaker, Opening Plenary Session, Friday, October 7
---
David Wessel, Director, The Hutchins Center on Fiscal and Monetary Policy & The Brookings Institution
David Wessel is Director of the Hutchins Center on Fiscal and Monetary Policy, the mission of which is to improve the quality of fiscal and monetary policies and public understanding of them. He joined Brookings in December 2013 after 30 years on the staff of The Wall Street Journal where, most recently, he was economics editor and wrote the weekly Capital column.  He is a contributing correspondent to The Wall Street Journal, appears frequently on NPR's Morning Edition and tweets often at @davidmwessel.
David is the author of two New York Times best-sellers: "In Fed We Trust: Ben Bernanke's War on the Great Panic" (2009)  and "Red Ink: Inside the High Stakes Politics of the Federal Budget" (2012.)   He has shared two Pulitzer Prizes, one in 1984 for a Boston Globe series on the persistence of racism in Boston and the other in 2003 for Wall Street Journal stories on corporate scandals. A native of New Haven, Conn., and a product of its public schools, David is a 1975 graduate of Haverford College and a Knight-Bagehot Fellow in Business and  Economics Journalism at Columbia University in 1980-81. He is currently a member of the Bureau of Labor Statistics' Data Users Advisory Committee. He teaches in the Dartmouth Tuck School of Business Global 2030 executive education program and has been a visiting journalism professor at Princeton University.
---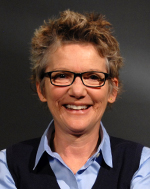 Mary C. Daly
Teachers' Luncheon Speaker, Friday, October 7

---
Mary C. Daly, Senior Vice President and Associate Director of Research
Mary C. Daly is Senior Vice President and Associate Director of Economic Research at the Federal Reserve Bank of San Francisco. Mary's research spans public finance, labor, and welfare economics and she has published widely on topics related to labor market fluctuations, public policy, income inequality and the economic well-being of less advantaged groups. Daly previously served as a visiting scholar with the Congressional Budget Office, as a member of the Social Security Advisory Board's Technical Panel and the National Academy of Social Insurance Committee on the Privatization of the Social Security Retirement Program.
Daly currently serves on the Editorial Board of the journal Industrial Relations. Daly joined the Federal Reserve as Economist in 1996 after completing a National Institute on Aging postdoctoral fellowship at Northwestern University. She earned a Ph.D. in Economics from Syracuse University.
---
Michael E. Staten
Teachers' Breakfast Speaker, Friday, October 7

---
Michael E. Staten, Ph.D., Take Charge America Endowed Professor and Director, Take Charge America Institute for Consumer Financial Education and Research & Assistant Dean for Careers, Commerce and Industry
Dr. Michael E. Staten holds the Take Charge America Endowed Chair in the Norton School of Family and Consumer Sciences at the University of Arizona.  He is also director of the Take Charge America Institute for personal financial education and research.  Staten is recognized nationally as an expert on retail credit market policy issues and has testified often before Congress and various state legislatures.  Over the past 20 years Dr. Staten has designed and conducted research projects on a wide range of policy-oriented issues involving consumer and mortgage credit markets, initially as director of the Credit Research Center at Purdue University (1988 – 1997), and later as Distinguished Professor and Executive Director of the re-located Credit Research Center at Georgetown University (1997 – 2006), and the George Washington University School of Business (2006-2007).  He has published numerous articles on retail financial services in academic journals and edited volumes.  He has made invited presentations at workshops and events sponsored by the Federal Trade Commission, the Federal Deposit Insurance Corporation, the Federal Reserve Board, and Washington, DC think-tanks including the American Enterprise Institute and the Brookings Institution.
Dr. Staten brings to Tucson an active personal research agenda that includes projects that examine the causes and consequences of personal bankruptcy and mortgage foreclosures; the rehabilitative effects of credit counseling on long-term borrower behavior; the accuracy of credit reporting; the impact of financial education mandates and programs on financial behavior of young consumers; and the pros and cons of improved loan disclosures and regulatory limits on loan products in helping consumers to make good credit choices.
Dr. Staten received his Ph.D. in economics from Purdue University's Krannert Graduate School of Management in 1980.  He has taught undergraduate and graduate economics courses at the University of Delaware and Purdue University.  At the University of Arizona he teaches courses in retail financial services and consumer behavior.  He currently serves as a trustee for the American Financial Services Association Education Foundation, and is on the Advisory Council for the National Foundation for Credit Counseling.   He served as Chairman of the Board of Directors of the Purdue Employees Federal Credit Union from 1995-1997.