57th Annual Financial Literacy & Economic Education Conference

2018 Conference Highlights:
Access to over 100 workshops where you can learn to integrate personal finance and economics into your classes
Outstanding networking opportunities – meet with other teachers and learn how they're tackling the challenges of economic and financial literacy education for K-12 students.
Conference sessions and workshops provide actionable tactics that will help you incorporate economics and financial literacy in your classes.
Gain valuable perspectives from our impressive roster of guest speakers.
You'll receive an electronic certificate of completion
Affordable registration fee includes: all conference sessions; the Networking Breakfast on Friday, Opening Plenary featuring Mark Zandi, Chief Economist, Moody's Analytics; the Teachers' Recognition Luncheon featuring Raphael Bostic, President & CEO, Federal Reserve Bank of Atlanta and the Teachers Roundtables on Saturday.
---
---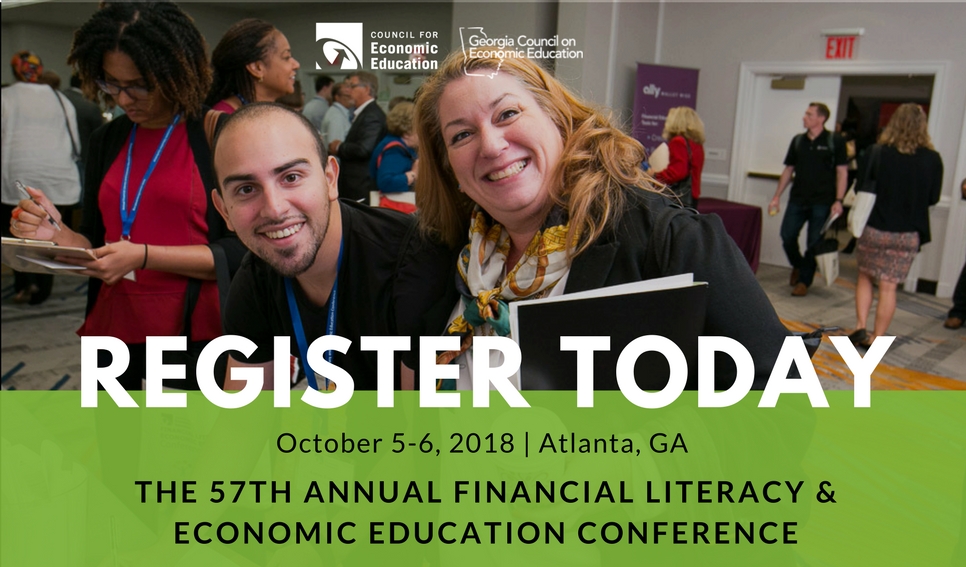 CEE accepts Purchase Orders from school districts that wish to register teachers and are unable to make an online purchase using a credit/debit card. Please contact Rosalie Polanco at rpolanco@councilforeconed.org or 212-730-7186 for more information.
---

---
Questions about the Conference
Please email Rosalie Polanco, rpolanco@councilforeconed.org.
---
Did you know?

According to teachers who attended CEE's annual conference, 100% would recommend the conference to a friend and 96% are still using information and resources gained at the conference in their classrooms.
The following typifies the comments we received from teachers following the conference:
"The CEE conference is valuable on so many levels, it provides an opportunity for teachers, like myself, to reflect on their current practice and contribution to the fields of economics, financial literacy, and education. It gives teachers an opportunity to organize collaborative projects and grow partnerships. Teachers who teach economics and financial literacy subjects are usually singletons in the school so collaboration and sharing of best practices usually only occur in this type of setting. I really look forward to next years." – Maddy Halbach, Academy of Finance Instructor, Applications and Research Laboratory, Howard County, MD
"Thank you to the CEE! They have shown a great commitment to improving the lives of children, through the gift of economic education. Not only do they provide terrific resources for teachers and students alike, but more importantly, they are dedicated to inspiring and connecting people together in this mission. A terrific conference indeed!!!" – Brian Held, Teacher, Loyola High School of Los Angeles, Los Angeles, CA
"The whole experience was incredible and enlightening. How encouraging to witness educators from around the world sharing the common goal for financial literacy and soundness for all our students. I feel confident that what we impart to our classes will create better financial and economical awareness for their futures!" – Susan Vass, Teacher, Our Lady of Calvary, Philadelphia, PA
More from the CEE