Register for the Conference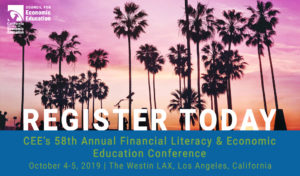 CEE accepts Purchase Orders from school districts that wish to register teachers and are unable to make an online purchase using a credit/debit card. Please contact Rosalie Polanco at rpolanco@councilforeconed.org or 212-730-7186 for more information.
---
Get your district on board
We know you get it: You'll learn things and make connections at CEE's Annual Conference that will make you a more effective economics and financial literacy educator. But, convincing your district may be challenging. So we've prepared this memo to help you.
---
Information for persons with disabilities
Please indicate on your registration form any special requirements you may have to make the conference more accessible to you.

More from the CEE