Do you love economics? Do you have a unique or exemplary approach to incorporating economics into your classroom instruction? Or do you know someone who does? The Council for Economic Education's (CEE) John Morton Excellence in the Teaching of Economics Award is the only national award recognizing these teachers!
The John Morton Excellence in the Teaching of Economics Award honors teachers of any subject who use exemplary teaching techniques that improve their students' economic understanding, in and out of the classroom. Annually an award of $1,000 is given to one teacher in each of the following categories:


Elementary school (grades K-4)
Middle/junior high school (grades 5-8)
High school (grades (9-12)
Aside from applying directly, teachers can be nominated by a teaching colleague, department chair, principal, superintendent, or CEE state affiliate (state council or university-based center for economic education).
Each awardee will receive:
A cash award of $1,000
An opportunity to co-facilitate a session at the 59th Annual Financial Literacy & Economic Education Conference in Chantilly, Virginia, October 2-3, 2020.
Covered travel, hotel and registration expenses to attend the Conference
An opportunity to have their lessons highlighted on CEE's EconEdLink
Recognition on CEE website and in CEE's EconEdLink November newsletter
A plaque certifying the award
---
2019 AWARD WINNERS
Julie Ingram
Florence Middle School,
Florence, MS
Grades 7-8
Ingram makes frequent use of games (Monopoly and Settlers of Catan), digital resources, and discussions on real-life topics (What is a "good" salary?). When personal finance was removed from the required vocational curriculum, she incorporated it into other subjects, such as using a lesson on spreadsheets to teach budgeting. She also spearheaded the introduction of a personal finance elective that remains on offer to this day.
In 2019, Ingram was named Teacher of the Year by the Mississippi Council on Economic Education.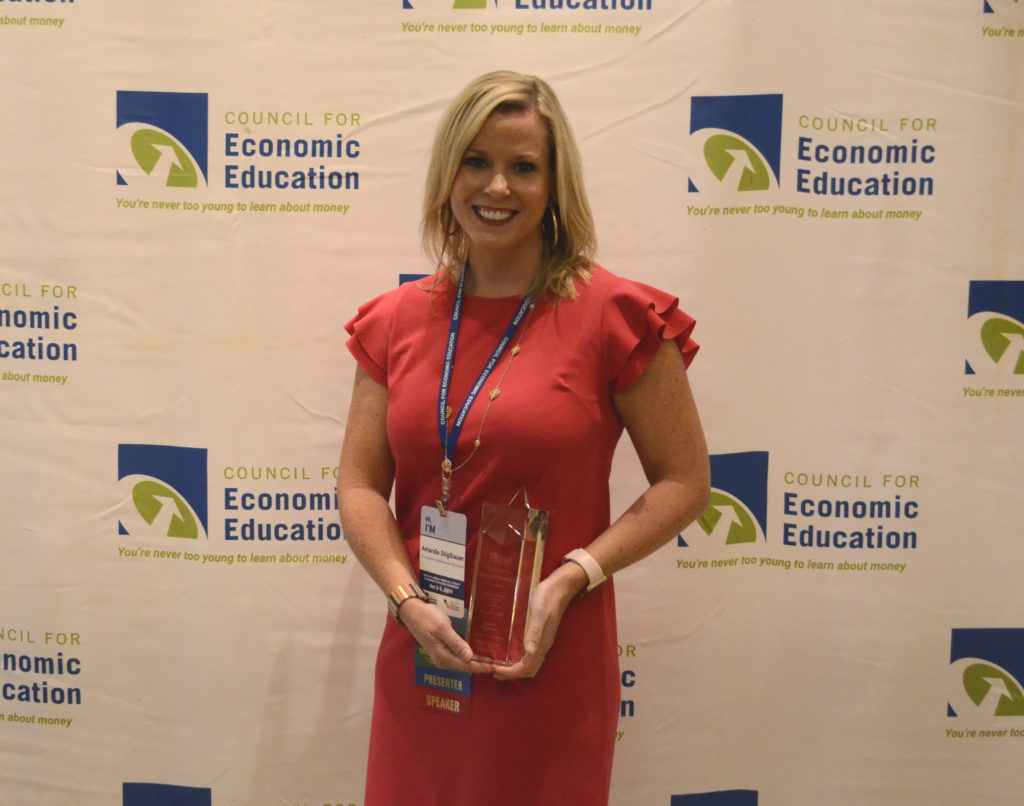 Amanda Stiglbauer
Blythewood High School,
Blythewood, South Carolina
Grades 10-12
Stiglbauer has a reputation for turning her students into economics majors. In her classroom, she runs a mock market economy where she encourages a growth mindset, participation with a proprietary currency called "Stigbucks". She is a leader for teachers in the community, conducting professional development throughout South Carolina.
Her students excel in competitions, with a team placing first in the South Carolina Economics Challenge and two students achieving finalist status in InvestWrite.
---
Eligibility:
High-ranking applications not selected for an award in the current year will be carried forward and considered during the subsequent 2 award years. To be eligible for this award you must:

• Demonstrate experience teaching in a K-12 setting and integrating economics into your instruction.
• Have been a K-12 classroom teacher in a public, private or parochial school during the 2019-2020 school year.
• Be a member of EconEdLink, CEE's free online site. You can register here: https://www.econedlink.org/membership
---