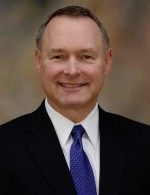 By Treasurer Michael L. Fitzgerald, Iowa State Treasurer
When it comes to financial literacy, saving, planning and investing are valuable terms that emphasize the importance of strong financial management and well-being. These concepts are especially useful when contemplating the costs of higher education. Saving for college is made easier with 529 college savings plans, which help families invest in their children's futures in a tax-advantaged way.
Celebrate Financial Literacy Month by looking into the benefits of a state-sponsored 529 college savings plan:
Tax savings. 529 plans were designed to provide families and friends a tax-advantaged way to save for higher education expenses. Thirty-four states and the District of Columbia offer state tax deductions or credits for contributions to certain 529 plans, which could help your tax refund grow to an even larger amount for the next tax year. In addition to the potential state tax benefits, participants are also able to withdraw their investment federally tax-free to pay for qualified expenses (and many states allow this as well).
Flexibility. You have the ability to save for anyone: children, grandchildren, friends or even yourself. 529 plans may also be used to pay for a variety of expenses, including tuition, books, supplies and certain room and board costs, at any eligible college, university, community college, vocational/technical schools and graduate schools.
Low minimum investments. Most plans have very low minimum monthly contribution limits that make them attractive to families from many income levels. Some states will have minimum limits as low as $15.
Although there are many ways to prepare a child for a successful future, none can bring greater lifetime rewards than a quality education. As I always say when discussing college savings with families, by starting early, saving a little at a time and making smart investment choices, you can make your 529 plan work for you and get the most out of these precious years.
They grow up fast; you will be glad you planned for their tomorrow today!