The Council for Economic Education is introducing their new Car Shopper App, now available on the Android App store for free! Teach students what it really means to purchase a car with Car Shopper. With this app, it's easy for students to unlock the hidden costs of their dream car in order to see for themselves. Students will be able to compare what they thought the cost of a car was versus the actual cost, by seeing the app adding up gas prices and factoring in finance options.
Inside the app, students can pick the type of car they want while the app links to real and current prices of cars. After selecting their car, students then get to choose financing options for their purchase by toggling the amount of money they want to put down, the finance rate, and contract length. Next, gas prices are then factored in and tailored to your region for accuracy in pricing. By the end, the student is shown a breakdown of the car's price, indicating the final total and the price per month.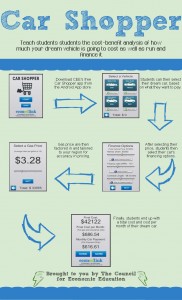 This visual representation will show students, first-hand, the cost-benefit analysis of buying their dream car. By taking them step-by-step through the process, this free app is able to show how the prices add up and how buying a car is something to be carefully calculated before making any purchase.
Written by GeorgiAnna Carbone-Wynne, a rising junior at Wake Forest University in Winston-Salem, North Carolina studying English and Communications. She is currently a marketing intern at the Council for Economic Education.