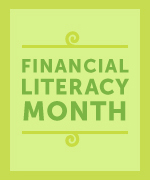 April is Financial Literacy Month, and it's a great opportunity to reflect on both how far we've come, and what challenges remain in 2015. Over the past 12 months, four states—and counting—have adopted CEE's National Standards for Financial Literacy. This follows a period of slow to no growth as shown in CEE's 2014 Survey of the States, which found that a majority of states do not require that students receive education in economics or personal finance education. This increased momentum may signal that the tide has at last started to turn in the right direction.
For the next four weeks CEE and our affiliates will be conducting a full roster of events to shine a spotlight on the importance of economic and financial education.  Here are some of the highlights: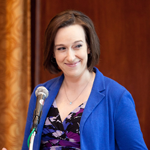 Vantage Point: Real World Perspectives on the Economy
An insightful and engaging discussion with an esteemed panel of experts and leaders joined us for our second annual economic symposium. Featured speakers included Professor Greg Mankiw, who gave the keynote, and Esther George, President of the Kansas City Federal Reserve, with an Update from the Fed.
Higher One, Money Matters On Campus
CEO and President Nan J. Morrison participated on a panel conducted by Higher One, sharing the results of their Money Matters On Campus survey.
State Council Events
Meanwhile, our state council affiliates have been working diligently to promote financial literacy carrying out a host of activities: the Ohio Council for Economic Education welcomed Jeff Immelt, (CEO, General Electric) as keynote speaker at their 2015 Awards Luncheon; and in Rhode Island, students and guests including U.S. Congressman Jim Langevin and State Treasurer Seth Magaziner, kicked off the month with a "'Financial Frenzy' Forum."
Money Math Mondays
New this year we'll be featuring Money Math Mondays throughout the month, a series of financial literacy-related math problems for parents and kids created by the founder of Bedtime Math.
CEE Blog Features Leaders Promoting Financial Literacy
We are excited to share perspectives from some of the leading voices in economics and personal finance. Guest bloggers include Sen. Patty Murray (D-WA), Congressman Steve Stivers (R-OH), Richard Cordray (Director, CFPB), David Wessel (Director, Hutchins Center on Fiscal and Monetary Policy, Brookings), Raymond W. McDaniel, Jr. (President and CEO, Moody's) and Kelli Grant (Consumer Reporter, CNBC.com). Be sure to tune in; we'll be posting new articles every week!