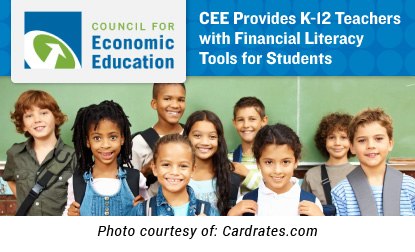 While standardized tests in our nation's schools address the topics that we would most expect – math concepts, reading comprehension – what they fail to cover are the real-world skills that students need to be successful after graduation.
This is where the Council for Economic Education (CEE) comes in.
Since its creation just after World War II, CEE's mission has been to equip K-12 teachers with the tools they need to create a strong financial education foundation for their students. "We provide professional development and resources for teachers," said Nan Morrison, President and CEO of CEE. "The resources range from lesson plans for the classroom, interactive activities, games, an assessment center, and videos."  Most of these resources you can find on CEE's online teacher portal, EconEdLink, which accrues over 1.2 million sessions each year, or you'll find them in one of CEE's in-person professional development workshops.
Whether its through EconEdLink, or in-person professional development workshops, webinars or student competitions, CEE has the resources to meet teachers where they are with what they need.
Read CardRates.com full blog post about our impact to date and the programs we offer >>>