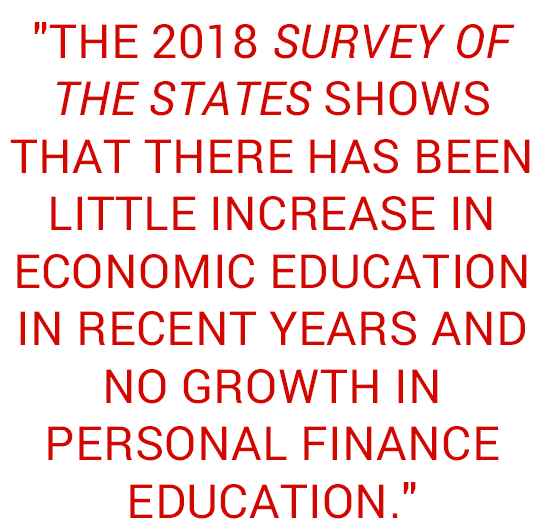 Every two years, the Council for Economic Education (CEE) conducts a comprehensive look into the state of K-12 economic and financial education in the United States, collecting data from all 50 states and the District of Columbia. The biennial Survey of the States serves as an important benchmark for our progress, revealing both how far we've come and how far we still have to go. There has been notable progress since the first survey was published in 1998, yet the pace of change has slowed. The 2018 Survey of the States shows that there has been little increase in economic education in recent years and no growth in personal finance education.
Research shows that requirements are the main driver of economics and personal finance being taught in schools. CEE works with our nationwide network of affiliates to both advocate for requirements and assist in their implementation. To support local and state advocacy initiatives, we have developed voluntary standards in economics and personal finance, nationally-normed, curriculum-agnostic assessments in economics and personal finance, and an online advocacy toolkit.
You can help strengthen economic and personal finance education by: 
Requesting a course in your school or district
Calling for more teacher-training
Promoting standards and course requirements at the state level.
---
This piece was published in the Council for Economic Education's 2018 Survey of the States.