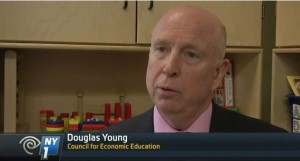 New York-Presbyterian/Morgan Stanley Children's Hospital is one of forty hospitals across the five boroughs where patients are given classroom instruction through the Hospital Schools program.
Through lessons that follow the Common Core Learning Standards, students from Pre-K through high school learn the 3 R's. In addition, for the past three years, they have been getting a dose of economics and financial literacy through the Council for Economic Education's Financial Fitness for Life program.
CEE's Douglas Young talks about the importance of teaching these kids economics and personal finance. Read the full article here.