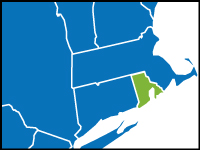 Last month, Rhode Island became the fourth state in the US to adopt the Council for Economic Education's National Standards for Financial Literacy—and in part, it's thanks to the efforts of one group of students who decided to make a difference.
Click here to read more about these East Greenwich students, and how they, along with Rhode Island Council for Economic Education's President Margaret Brooks, raised the bar for financial literacy in their state.
To read additional media coverage click here and here.
Rhode Island joins Florida, Alabama and Oklahoma in adopting CEE's standards as the basis for Financial Literacy education in their state.