On Wednesday, the Council for Economic Education hosted "Vantage Point: Economic Perspectives from Wall Street Women," featuring moderator Karen Finerman, CEO, Metropolitan Capital Advisors, Inc. Contributor, CNBC's "Fast Money"; with panelists Mellody Hobson President, Ariel Investments Chairman, DreamWorks Animation SKG, Inc.; and Sallie Krawcheck, who recently acquired 85 Broads.
The women spoke to more than 100 other female, and some male, guests at the Harvard Club in New York City. Tackling tough questions from Finerman, Hobson and Krawcheck gave their opinions on everything from the European financial crises, to housing and the spending patterns of Gen X and Millennials.
The Wall Street Journal covered the event in this piece, highlighting the panelists' opinions on the young generations and their savings habit.
"Ms. Hobson, speaking Wednesday at a panel hosted by the Council, said the cautionary tale of the downturn — as well as longer lives and careers — underscore the need for economic and financial literacy among young people.
Millennials are "the second-most conservative group of investors, right behind their grandparents," said panelist Sallie Krawcheck, former president of global wealth and investment management for Bank of America Corp. The fact that young workers today likely will be retiring at an older age than their parents and grandparents means "we need a structural rethink" of how to save for that retirement, Ms. Krawcheck said."
Learn more about the discussion and read the full story here.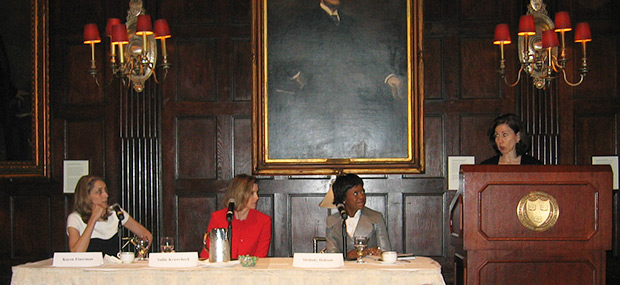 Karen Finerman with panelists Sallie Krawcheck and Mellody Hobson; Nan J. Morrison at the podium.