IMPORTANT: After November 13, the Online Assessment Center (OAC) will no longer be available. We recommend you download all your data. You can find directions on how to print and export student results here.
If you registered this 2020-2021 school year, log-in here.
If you registered between 2014-2015 and 2019-2020, re-activate your account. Contact: Kevin Gotchet, kgotchet@councilforeconed.org.
The Council for Economic Education is a leading designer of high-quality resources facilitating instruction and assessment. The Online Assessment Center (OAC), builds further upon this record providing a free service where teachers can securely administer assessments, gain real-time data, and measure student knowledge and understanding of economic and personal finance concepts. In four easy steps teachers can use this service to analyze the efficacy of their instruction and modify their approach.
Ready Assessments will enable teachers to:
Administer tests online and create custom reports
Analyze student and class performance by test and by item
Track student and class progress over the course of a school year
Identify how students and classes perform against standards and benchmarks
Access the entirety of CEE's library of Economics and Personal Finance assessments at the Upper Elementary, Middle School, High School and University levels.
Access financial literacy assessments tied to PwC's Earn Your FutureTM curricula
Register today

and create your free Online Assessment Center account. Existing users

click here

.
National Economics ChallengeSM Practice Tests

The Online Assessment Center is now home to the National Economics Challenge practice tests. With these tests, teachers can see if their teams have what it takes to compete in the Challenge.
Visit the National Economics Challenge website for more information about the Challenge and how to register a team.
Learn More about the Integrated Assessments
The Online Assessment Center offers up the entirety of CEE's assessment library to teachers. Assessments in Economics and Personal Finance at the Upper Elementary, Middle School, High School and University levels are available. The Online Assessment Center also features financial literacy assessments tied to PwC's Earn Your FutureTM curricula. With a stated commitment to helping enhance the financial capability of youth and promote prosperity, PwC launched Earn Your FutureTM, a $160 million, multi-year investment centered on two goals: helping students develop critical financial skills and providing educators with the resources and training to teach those skills. PwC's Earn Your FutureTM curricula are composed of easy-to-follow lesson plans accompanied by interactive handouts. The curricula is free and available to download for easy access to financial literacy education. There are 30 financial literacy modules spanning grades 3 through 12 and that cover Saving & Investing, Career Exploration, and Planning & Money Management topics.
Examiner's Manuals
A test examiner's manual compliments each CEE assessment. Examiner's manuals provide test administrators with information on implementation procedures; statistical analysis of item performance; data for the comparison of student's against similar students across the country; and rationale for student responses. PDF versions of our Examiner's Manuals can be downloaded by clicking on the links below:
Find out how your students measure up in just four steps!
Step 1: Add Your Class
Step 2: Assign Test

Step 3: Students Take Test
Step 4: Measure Results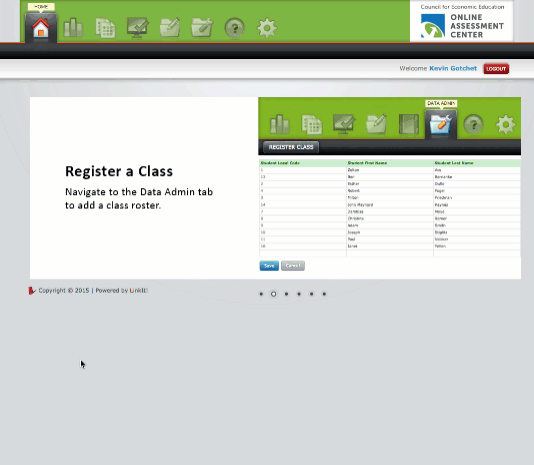 For more information about the Online Assessment Center please email info@councilforeconed.org. Results of individual assessments and student identity will be available to individual teachers. At no time will students be identifiable to anyone other than their teacher. Anonymous results of individual assessments may be combined with those of others for the purposes of research about effectiveness of overall programs. In doing so, state, school, teacher or class results will not be identified.