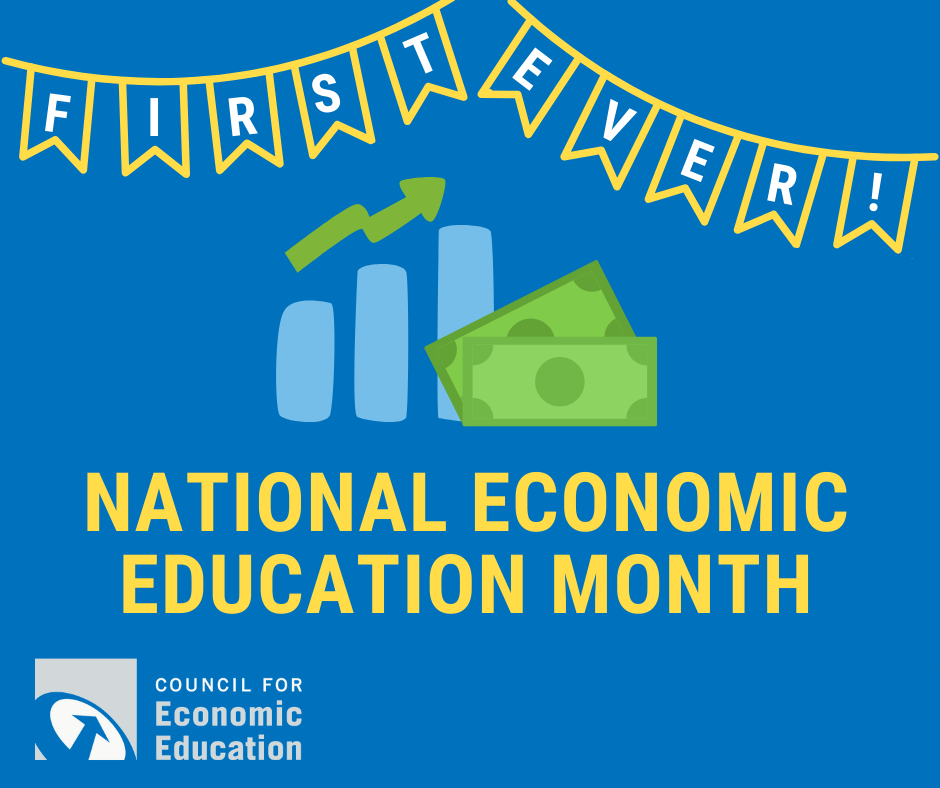 October marks the first-ever National Economic Education Month – a series of activities to focus attention on helping K-12 teachers and their students understand the importance of economics. We have abundant resources to help teachers and students improve their economic fitness, but here are a few items hand-pulled to make this year's Economic Education Month extra special.
Why Does Economics Need Its Own Month?
"Education is fundamental to leveling the playing field," said Nan J. Morrison, president and CEO of the Council for Economic Education. "With gaps in financial knowledge and wealth-building running clearly along socioeconomic lines, we must reach out to all students to help them understand how both personal – micro – and national and global – macro – economics impact just about every aspect of their lives."
Learn on Social Media
Economics Lesson Plans
Each Monday, Wednesday, and Friday in October, we will feature an economics lesson plan for teachers to use in their classrooms. Our lessons are free to download and come with detailed instructions and worksheets for students. Check our Twitter account for live releases of our featured lessons, or join EconEdLink to access lesson plans the entire year.
Hear from Notable Economists
To show the importance of learning economics, we will share perspectives from economists about what real-world problem economics can help solve. We will feature their advice each Tuesday and Thursday in October. Check our Twitter account to learn from the best of the best!
Live Economics Events in October
Upcoming Events
Honorable Business with Dr. James Otteson
Monday, October 18, 7:00 p.m. ET

The Concordia Free Enterprise Center welcomes James R. Otteson as the inaugural presenter of its new Free Enterprise Speaker Series.

Otteson is a Wall Street Journal-reviewed author, philosopher, and political economist. He is the John T. Ryan Jr. Professor of Business Ethics and Rex and Alice E. Martin Faculty Director of the Notre Dame Deloitte Center for Ethical Leadership in the Mendoza College of Business at the University of Notre Dame. He received his BA from the University of Notre Dame and his PhD in philosophy from the University of Chicago. He specializes in business ethics, political economy, the history of economic thought, and eighteenth-century moral philosophy.

Register
---

Think Econ, Teach Econ with Dr. Gregory Mankiw
Wednesday, October 20, 7:00 p.m. ET
This virtual Q&A session with noteworthy economist Dr. Gregory Mankiw is focused on thinking like an economist and the art of teaching economics.
Dr. Mankiw teaches the world with his Principles of Economics textbook which has sold over two million copies and has been translated into twenty languages. Learn more about his work as a prolific writer, professor, and policy influencer.
---

Rolling Out the Red Carpet for Some Great AP Macro Lessons
Thursday, October 21, 4:00 p.m. ET

The St. Louis Fed Econ Ed team will show Advanced Placement Economics teachers to some of their latest AP Macroeconomics resources.
Teachers will:
Get a guided tour of the new, interactive Long-Run Equilibrium Econ Lowdown module
Learn about lesson plans that incorporate classroom simulations on topics such as GDP, unemployment, trade, and inflation
Explore the Page One Economics series of articles that have been selected especially for AP Macroeconomics
Catch up on the latest in teaching monetary policy
---

Virtual Museum Tours of the Atlanta Fed for your students
Tuesday, October 26, 9:00 a.m. ET
In this virtual session for high school students, members of the Federal Reserve Bank of Atlanta education team will provide an overview of the Federal Reserve's primary functions and answer questions.
---

National Association of Economic Educators Conference
Friday, October 29, 12:00 p.m. ET

The National Association of Economic Educators (NAEE) is the professional association of economic educators. Their mission is to advance economic and financial literacy by serving educators. This virtual conference is free to attend

Register
---
Past Events
60th Financial Literacy and Economic Education Conference
Wednesday, September 29 to Friday, October 1
Kick off Economic Education Month with CEE's annual education conference. This conference is the nation's premier event for K-12 educators that want to integrate personal finance and economics into their classrooms. We hope to see you there!
Registration is closed
---
Real World Econ with Betsey Stevenson
Wednesday, October 6, 7:00 p.m. ET
Noted economist, Dr. Betsey Stevenson, will share how economics permeates each day of our life, often in unexpected ways. This virtual presentation will help you discover economics in the real world and learn how every decision we make is an economic one.
Registration is closed
---