At CEE, we treat every month like Financial Literacy Month, but we are happy there's a dedicated month for the rest of the country to celebrate! We have abundant resources to help teachers and students improve their financial fitness, but here are a few items hand-pulled to make this year's Financial Literacy Month extra special.
For Teachers
Personal Finance Webinars to Keep Your Teaching Timely!
Using Picture Books to Celebrate April's Financial Literacy Month
Wednesday, April 6th, 6:00 – 7:00 p.m. ET

Grades K-5, Key concept: Learn how to introduce the students to the concepts of money, saving, spending, earning, and investing.
Teaching Personal Finance With Empathy
Thursday, April 7th, 6:00 – 7:00 p.m. ET

All grades, Key concept:  Identify areas of Personal Finance instruction that can be improved through empathy.
Understanding Bitcoin, Cryptocurrency, & Blockchain Technology
Thursday, April 14th, 6:00 – 7:00 p.m. ET

Grades 9-12, Key concept: Teachers will learn the basics of how Bitcoin, cryptocurrencies, and blockchain technology work.
Developments with Cryptocurrency, NTFs, and Other Emerging Technologies
Thursday, April 21st, 6:00 – 7:00 p.m. ET

Grades 9-12, Key concept: We will illustrate the benefits, costs, and risks of engaging in the crypto and NFT markets through the experiences of celebrities.
National Standards for Personal Financial Education
This new and improved comprehensive set of financial education standards shares skills all young people should acquire during their K-12 education as a framework for their lives as smart consumers.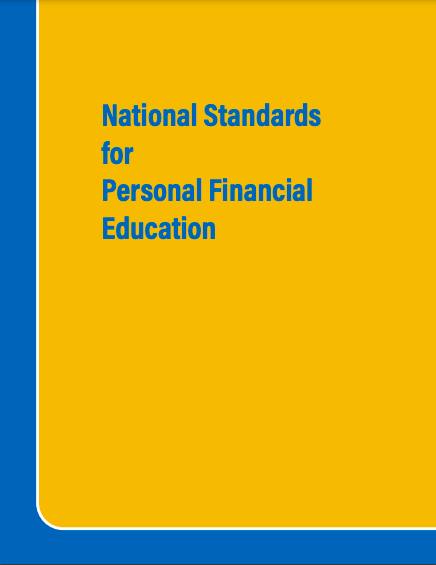 The standards are organized around six topic areas:
1) Earning income
2) Spending
3) Saving
4) Investing
5) Managing credit
6) Managing risk
Monday Financial Lesson Plan Drop
Every Monday on Facebook and Twitter, we'll share a lesson plan from EconEdLink to make our financial-focused lesson plans extra accessible and easy to share. The lessons will highlight one national standard per week from the latest National Standards for Personal Financial Education.
National Personal Finance Challenge Coach Toolkit
Our newly launched toolkit offers resources for teachers and coaches to prepare their students team to compete in the NPFC.

Explore lessons, activities, videos, and quizzes to help your team learn about the six core knowledge areas of personal finance.

Register your teams today and provide your students with the knowledge they need to live their lives as smart consumers!
---
For Students
30 Days of Financial Literacy on Instagram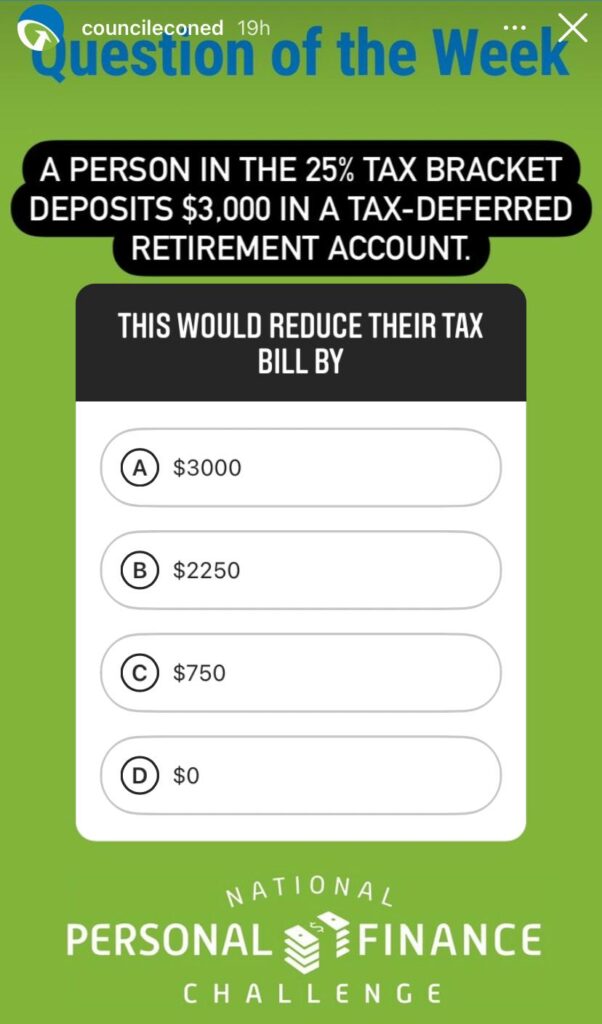 Monday Millionaire Myths
On CEE's Instagram, we'll share "Millionaire Myth" posts for students on Mondays sharing true/false myths about money.

Tuesday Podcast Rec
On IIG's Instagram, we'll share the must-listen podcasts for students interested in learning more about finance.

Wednesday Book Rec
On CEE's Instagram, we'll share the books that will inspire high schoolers to focus on learning finance young!

Thursday Finance Job Feature
On IIG's Instagram, we'll feature roles in finance at "hip" companies and share expected salary, recommended education, and a typical day in the life of that role.
---
Don't Forget!
It's not too late to make a team for the National Personal Finance Challenge
The National Personal Finance Challenge (NPFC) is a nationwide competition that provides high school students the opportunity to build and demonstrate their knowledge of money management.

Teams showcase their expertise in the concepts of earning income, buying goods and services, saving, using credit, investing, and protecting. Top teams in the Finals win cash prizes and a free trip to NYC!