2018 National Economics Challenge Champions!
Welcome to the National Economics Challenge!
The National Economics Challenge (NEC) is the nation's only high school economics competition. Each year, over 11,000 students across the U.S. participate in the competition. The Challenge recognizes exceptional high school students for their knowledge of economic principles and their ability to apply problem-solving and critical-thinking skills to real-world events.
The Competitions
Competitions are held at the State, National Semi-Final, and National Final levels for high school students in two divisions:
National Final Economics Challenge Competition (May 19 - 21, 2018) - The Council for Economic Education will host the National Economics Challenge in New York City on May 19 - 21, 2018. Cash prizes, a trophy, and medals for the top 8 teams at nationals. Rounds will cover Microeconomics, Macroeconomics, International and current events. There will be critical thinking rounds and quiz bowl rounds and an international round. CEE will pay for all lodging, food, and events while in NYC plus up to 50% of transportation costs! *
Keep Me Posted!

Sign up to receive the latest news about the 2018 National Economics Challenge
Sign Up
Save the Date

Download important information about the 2018 National Economics Challenge
DOWNLOAD
Awards
State winners advance to the National Semi-Finals. From there, the top eight highest scoring teams in the two divisions are selected to attend the National Finals in New York City for a three-day trip and celebration to compete for top awards and honors:
NEC Champion Medal - $1,000
NEC Second Place Medal - $500
NEC Third Place Medal - $250
NEC Fourth Place Medal - $200
In addition to the awards listed above, CEE will be presenting The Russell Glass Individual Achievement Award to the top Adam Smith Division scholar for best individual achievement based on his/her combined test score (Round 1-3) and overall presentation skills.  
Do you have what it takes?
Watch the video to see if your team has what it takes to make it to the 2018 National Economics ChallengeSM Finals.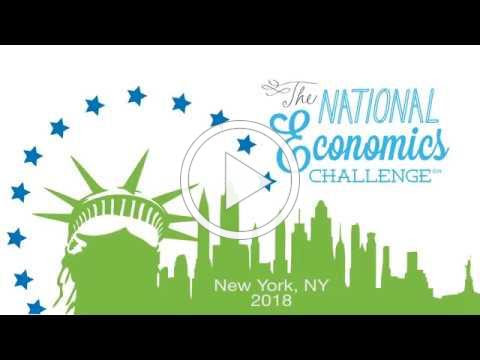 *Please contact your state coordinator about the travel subsidies in your state.