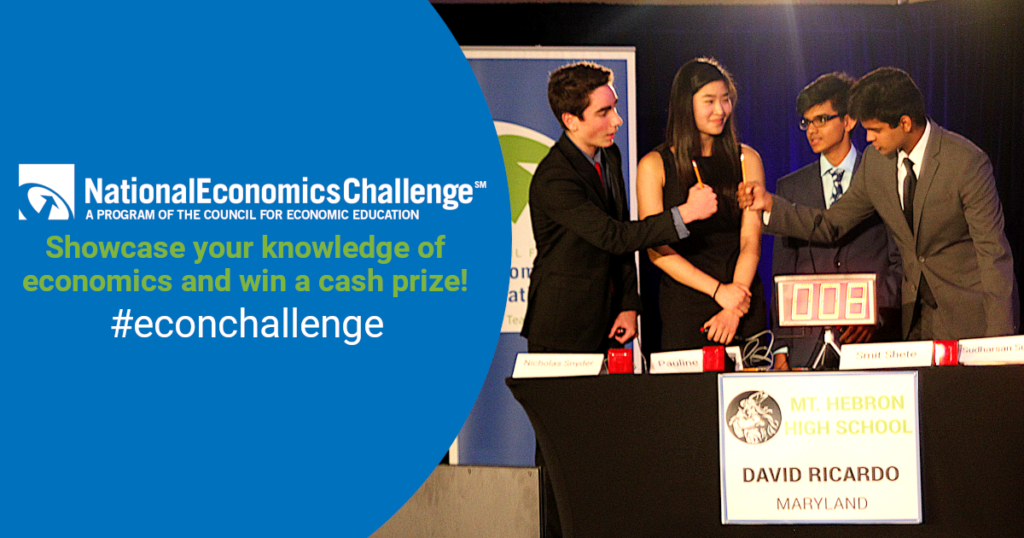 The National Economics Challenge (NEC) is the country's only economics competition of its kind for high school students. It tests micro and macroeconomic principles as well as knowledge of the world economy. Through written exams, presentation-based critical thinking rounds, and on-stage quiz bowls, students compete for the national championship. National champions participate in the USA vs China International Quiz Bowl.
FALL 2019-SPRING 2020: NATIONAL ECONOMICS CHALLENGE BEGINS
Teachers may register teams of up three-to-four high school students. Teams then compete on the state level. Teachers can form any number of teams, so this makes a great classroom activity. Check with your local Council for Economic Education affiliate for state competition dates.

APRIL 2020: STATE CHAMPIONS ANNOUNCED
State Champions are announced and invited to participate in the National Semi-Finals.

WEDNESDAY, APRIL 15, 2020 : NATIONAL SEMI-FINALS
State Champions compete to determine which ten teams from each division will compete in the National Finals.

Make-up dates for teams on spring break or with valid absence will be held on Monday, April 20, 2020.

SATURDAY, MAY 16—MONDAY, MAY 18, 2020 : NATIONAL FINALS
The top teams in each division from the National Semi-Finals compete for the national title in Newark, New Jersey. Winners move onto the USA vs China International Quiz Bowl.
Click here for a recap of 2019's National Economics Challenge, including photos and video!
Each member as well as one coach from the top four USA teams of the National Economics Challenge will receive a medal and certificate of their accomplishment as well as a cash prize corresponding to their team's rank:
1st place: $1,000
2nd place: $500
3rd place: $250
4th place: $200
The competition runs in two divisions:
DAVID RICARDO DIVISION
For first-time Challenge competitors who have taken no more than one economics course
ADAM SMITH DIVISION
For AP, international baccalaureate, and honors students (as well as any returning competitors)
Teachers, you can register today! Find your local economics challenge and learn how to form teams here: councilforeconed.org/register/
Students, feel free to share this link with potential teacher/coaches and teammates! Let your teachers know that they can register today!
The Council for Economic Education (CEE) created the National Economics Challenge in 2000 to promote student interest in economics, reinforce classroom instruction, and to encourage teamwork and school spirit. In 2019, more than 10,000 high school students from the US and 2,300 from China participated. The National Economics Challenge is one of CEE's key initiatives to focus public attention on the benefits of economic literacy and the need for a high-quality, standards-based economics curriculum in every state.