Each year CEE, through its network of over 200 national affiliates (state councils and university-based centers for economic education), trains about 55,000 teachers who reach approximately 5 million students, about 10% of the nation's students.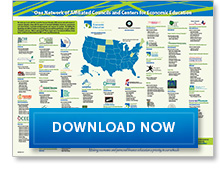 Network of Affiliated Councils and Centers Poster available for download.
Learn more about CEE's local Councils and Centers in our Featured Affiliate blog posts.
Use the directory to find the names of the directors and staff who work in CEE's affiliated network of state councils and university centers as well as links to their websites.
More from the CEE