The Council for Economic Education has a collection of resources for K-12 educators and students.
---
EconEdLink is the go-to destination for free personal finance and economic lesson plans, interactive tools, professional development and more.
---


Economic lessons can sometimes seem too abstract for students. "Teaching the News" not only puts these lessons into real life perspective but it also helps educate your students on how to critically engage with current events. Use current events to teach the news in your classroom. Following each article you'll find several related resources from EconEdLink for teaching the underlying economics and personal finance concepts.
---
Gen i Revolution: a free, online personal finance game for high school students. Students assume the role of a secret agent assigned to solve a variety of financial problems—in the form of 15 missions—and defeat the "Murktide" of financial confusion that is spreading across the country. Did you know?! Teachers can use Gen i Revolution to prepare their students for the w!se Financial Literacy Certification test; students who pass the test become Certified Financially LiterateTM (CFL).
---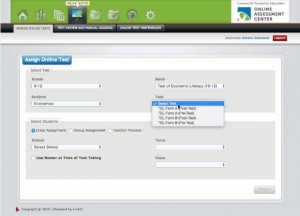 The Online Assessment Center is a free service where teachers can securely administer assessments, gain real-time data, and measure student knowledge and understanding of economic and personal finance concepts. In four easy steps teachers can use this service to analyze the efficacy of their instruction and modify their approach.
Register today and create your free Online Assessment Center account.
---