Rebecca Patterson on CNBC
CEE Board Chair Rebecca Patterson recently wrote an Op-ed, "What a stronger economy? Start by teaching personal finance to teachers." Published on CNBC, Patterson underscores the need to increase the number of states requiring K-12 financial education and outlines how an educational requirement in more states could have a significant influence on the U.S. economy.
Key points:
There is ample evidence that training teachers in financial education matters can improve their students' future economic choices, which in turn influence broader economic trends.
Currently, only half of states require at least one course in either economics or personal finance for high school graduation.
Ensuring financial capability for every child in every state seems to have broad voter support, according to Pew Research.
---
About the Council for Economic Education
The Council for Economic Education's (CEE's) mission is to equip K-12 students with the tools and knowledge of personal finance and economics so that they can make better decisions for themselves, their families, and their communities which connects to and strengthens our broader economy. We carry out our mission primarily by providing resources and training to K-12 educators and have done so for nearly 75 years. EconEdLink, our free online educator gateway for economic and personal finance lessons, attracts approximately 450,000 users annually and nearly two-thirds of the tens of thousands of teachers we train are in low- to moderate-income schools. CEE also provides young people with programs to prepare them for their financial futures and help them understand the economic impact of real-world events. Invest in Girls, our program for high school girls, and our National Economics and Personal Finance Challenges together inspire and motivate over 30,000 high school students annually. All resources and programs are educator developed and delivered by our nearly 200 affiliates nationally. We also advocate for more and better education in personal finance and economics, leveraging our biennial Survey of the States.   
Media contact: 
Read More
Here's your opportunity to have a sit down with investor and self-proclaimed "professional mistake maker" Ray Dalio.  Ray, Investor and founder of Bridgewater Associates, the world's largest hedge fund, is…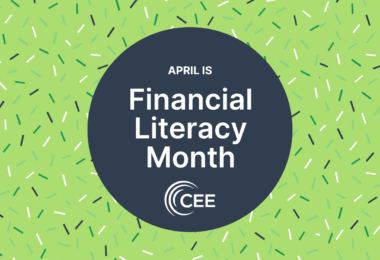 At CEE, every month is Financial Literacy Month, but we're happy there's a dedicated month for the rest of the country to celebrate! This April, we have ideas for you…
We are thrilled to announce a new website for our Invest in Girls (IIG) program. At Invest in Girls (IIG), we believe ALL girls deserve to know how to manage…