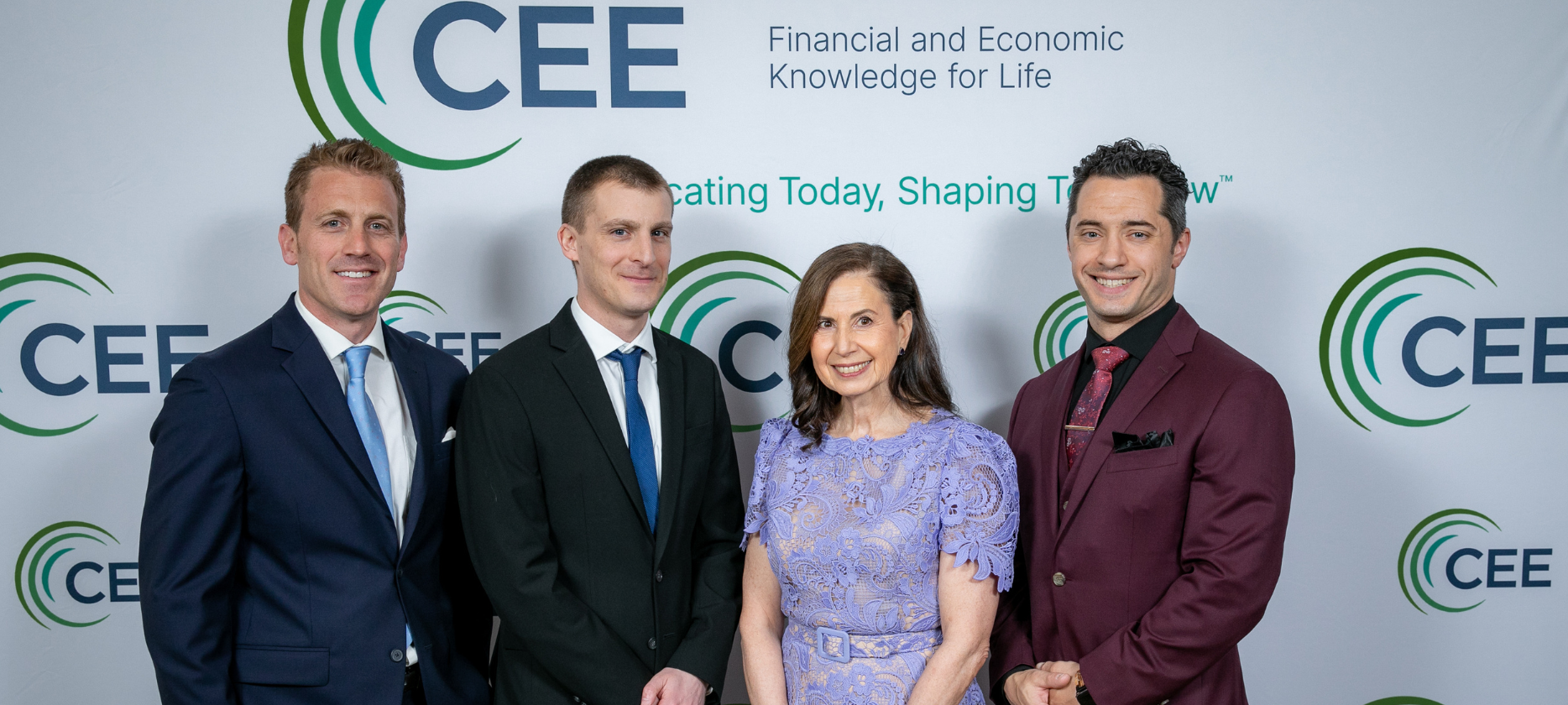 Teaching Champion Award Winners 2023 
We are pleased to announce this year's winners of the Alfred P. Sloan Foundation Teaching Champion Award. Each year, the Alfred P. Sloan Foundation partners with CEE to honor visionary K-12 educators in the New York metropolitan area who inspire students every day through their passion, creativity, and dedication to teaching economics. Each award winner receives a cash prize of $5,000, a cash award of $2,500 for their school to support economic education, admission to CEE's Financial Literacy and Economic Education Conference, and recognition at CEE's Visionary Awards Benefit. It is with great pleasure that we congratulate this year's winners for their impact and dedication to their students. Join us in celebrating Simon Jarcho, Christopher Power, and Robert Sckalor.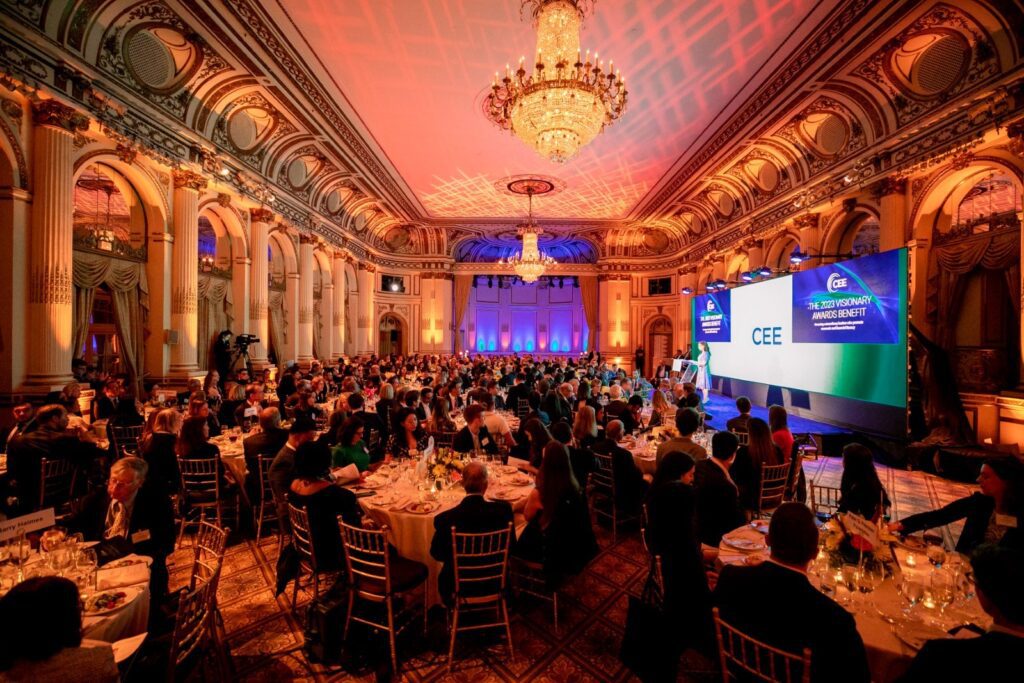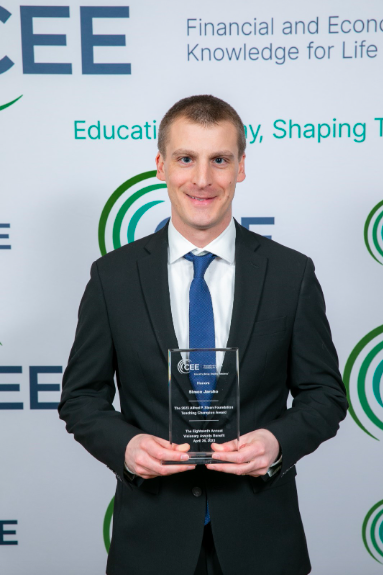 Simon Jarcho teaches economics, statistics, and math to grades 11-12 at Avenues: The World School in NYC. At Avenues, Simon's Philosophy of Economics elective focuses on everything from the application of foundational economic concepts and theory to decisions in public policy. He also advises the Economics Club and the Getting to College Project, a student-led organization committed to expanding access to college counseling services in underserved school communities. Simon shared, "Economic education and exposure to social sciences, provides students with a toolkit to better understand and engage with the world around them. By imparting upon students an awareness of incentives and how they impact decisions – from 'big picture' macroeconomic decisions that drive public policy down to daily choices about how we as individuals allocate our scarce resources – I believe that we empower young adults to be more civically engaged and better equipped to participate in productive discourse."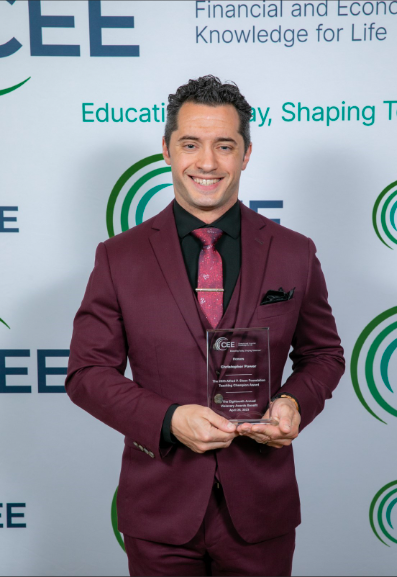 Christopher Power teaches economics, virtual enterprise, and technology to grades 9-12 at Francis Lewis High School in Fresh Meadows, NY. Christopher's passion for finance and economics translates to unique and often loud (but entertaining!) lessons and discussion. Christopher focuses on brining real world experiences into the classroom. Lessons include building pitch decks, analyzing economic data, calculating mortgage payments, managing money, and more. Christopher's teaching approach is extremely popular with the students: he has grown the business program from 68 to 306 students per year. What matters to him most is creating career ready students who are capable of making calculated life and financial decisions. Christopher shared, "Financial literacy and economic education buys freedom. Evidence suggests 80% of people are financially illiterate. So, contrary to popular belief, money is not the root of all evil, the lack of financial literacy is."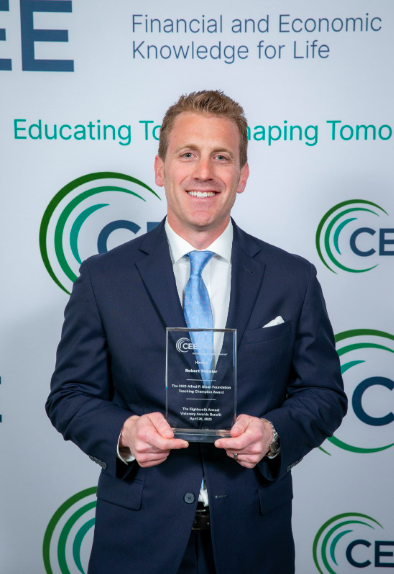 Robert Sckalor teaches global studies, economics, and AP U.S. Politics and Government to grades 10-12 at the Frank Sinatra School of the Arts in Astoria, NY. Robert credits the book Freakonomics as the transformational moment in his life where he developed a love for all things economics, and he wants his students to feel just as inspired about the subject. In his economics classes, you can find his students playing a risk-aversion investing game or shopping around for their "accident Wednesday" insurance. Robert recently shared, "Developing strong financial literacy skills and the ability to respond rationally to economic incentives is the compounding interest of life. You won't see gains early, but in the long run you'll be incredibly thankful for your literacy and decision-making skills."  
Simon, Christopher, and Robert's commitment to their students is an inspiration to us all. We are grateful for the impact they have had on the lives of countless students. Congratulations! 
---
About the Council for Economic Education
The Council for Economic Education's (CEE's) mission is to equip K–12 students with the tools and knowledge of personal finance and economics so that they can make better decisions for themselves, their families, and their communities, and learn to successfully navigate in our ever-changing economy. We carry out our mission in three ways.  We advocate to require financial and economic education in every state. We provide training, tools and resources – online and live through over 180 affiliates nationwide – to more than 40,000 teachers annually who in turn bring the highest quality economics and personal finance instruction to over 4 million students. We deepen knowledge and introduce high school students to critical career capabilities through our national competitions and Invest in Girls program.
Media contact:
Read More
What a great night! The 2023 Visionary Awards, held at the Plaza Hotel in New York City, brought together educators, policymakers, and business leaders to celebrate and recognize outstanding contributions…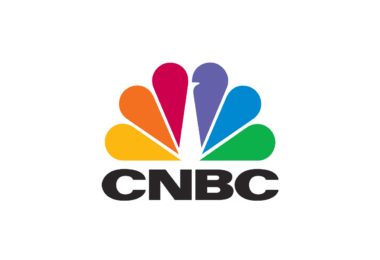 CEE Board Chair Rebecca Patterson recently wrote an Op-ed, "What a stronger economy? Start by teaching personal finance to teachers." Published on CNBC, Patterson underscores the need to increase the…
Here's your opportunity to have a sit down with investor and self-proclaimed "professional mistake maker" Ray Dalio.  Ray, Investor and founder of Bridgewater Associates, the world's largest hedge fund, is…